Package: mc (3:4.8.29-2)
Links for mc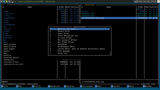 Debian Resources:
Download Source Package mc:
Maintainers:
External Resources:
Similar packages:
Midnight Commander - a powerful file manager
GNU Midnight Commander is a text-mode full-screen file manager. It uses a two panel interface and a subshell for command execution. It includes an internal editor with syntax highlighting and an internal viewer with support for binary files. Also included is Virtual Filesystem (VFS), that allows files on remote systems (e.g. FTP, SSH servers) and files inside archives to be manipulated like real files.
Other Packages Related to mc
sug:

arj

archiver for .arj files

sug:

bzip2

high-quality block-sorting file compressor - utilities

sug:

catdvi

DVI to plain text translator
Binaries for TeX Live

sug:

dbview

view dBase III files

sug:

djvulibre-bin

Utilities for the DjVu image format

sug:

epub-utils

tools to work with the EPUB file format

sug:

file

Recognize the type of data in a file using "magic" numbers

sug:

genisoimage

Creates ISO-9660 CD-ROM filesystem images

sug:

gv

PostScript and PDF viewer for X

sug:

imagemagick

image manipulation programs -- binaries
also a virtual package provided by graphicsmagick-imagemagick-compat, imagemagick-6.q16

sug:

libaspell-dev

Development files for applications with GNU Aspell support

sug:

odt2txt

simple converter from OpenDocument Text to plain text

sug:

poppler-utils

PDF utilities (based on Poppler)

sug:

python

Package not available

sug:

python-boto

Package not available

sug:

python-tz

Package not available

sug:

unar

Unarchiver for a variety of file formats

sug:

wimtools

Tools for manipulating Windows Imaging files

sug:

xpdf

Motif-based PDF reader using the Poppler library

or pdf-viewer

virtual package provided by apvlv, atril, evince, gv, mupdf, okular, qpdfview, viewpdf.app, xpdf, zathura-pdf-poppler

sug:

zip

Archiver for .zip files