Package: iptables (1.8.9-2)
Links for iptables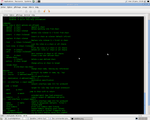 Debian Resources:
Download Source Package iptables:
Maintainers:
External Resources:
Similar packages:
administration tools for packet filtering and NAT
The iptables/xtables framework has been replaced by nftables. You should consider migrating now.
iptables is the userspace command line program used to configure the Linux packet filtering and NAT ruleset. It is targeted towards systems and networks administrators.
This package contains several different utilities, the most important ones:
iptables-nft, iptables-nft-save, iptables-nft-restore (nft-based version)
iptables-legacy, iptables-legacy-save, iptables-legacy-restore (legacy version)
ip6tables-nft, ip6tables-nft-save, ip6tables-nft-restore (nft-based version)
ip6tables-legacy, ip6tables-legacy-save, ip6tables-legacy-restore (legacy version)
arptables-nft, arptables-nft-save, arptables-nft-restore (nft-based version)
ebtables-nft, ebtables-nft-save, ebtables-nft-restore (nft-based version)
Other Packages Related to iptables
rec:

nftables

Program to control packet filtering rules by Netfilter project