Package: tk-tktray (1.3.9-3 and others)
Links for tk-tktray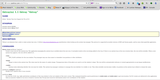 Debian Resources:
Download Source Package tktray:
Maintainer:
External Resources:
Similar packages:
Freedesktop system tray icon support for Tcl/Tk on X11
Tktray is an extension that is able to create system tray icons. It follows http://www.freedesktop.org specifications. This protocol is supported by modern versions of KDE and GNOME panels, and by some other panel-like application.
Other Packages Related to tk-tktray
dep:

libc6 (>= 2.17) [arm64, ppc64el]

GNU C Library: Shared libraries
also a virtual package provided by libc6-udeb

dep:

libc6 (>= 2.4) [not arm64, ppc64el]

dep:

libx11-6

X11 client-side library

dep:

tk

Toolkit for Tcl and X11 (default version) - windowing shell