Package: geany (1.37.1-2)
Links for geany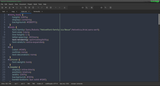 Debian Resources:
Download Source Package geany:
Maintainers:
External Resources:
Similar packages:
fast and lightweight IDE
Geany is a small and lightweight integrated development environment. It was developed to provide a small and fast IDE, which has only a few dependencies from other packages. It is using only the GTK3 toolkit and therefore you need only the GTK3 runtime libraries to run Geany.
The basic features of Geany are:

 - syntax highlighting
 - code completion
 - auto completion of constructs like if, for and while, XML and HTML
 - call tips
 - folding
 - many supported filetypes like C, Java, PHP, HTML, Python, Perl, Pascal
 - symbol lists
 - embedded terminal emulation

Other Packages Related to geany
Download geany
Download for all available architectures

| Architecture | Package Size | Installed Size | Files |
| --- | --- | --- | --- |
| amd64 | 1,599.5 kB | 3,878.0 kB | [list of files] |
| arm64 | 1,486.2 kB | 3,711.0 kB | [list of files] |
| armel | 1,389.4 kB | 3,275.0 kB | [list of files] |
| armhf | 1,418.1 kB | 2,571.0 kB | [list of files] |
| i386 | 1,684.7 kB | 4,052.0 kB | [list of files] |
| mips64el | 1,490.6 kB | 4,466.0 kB | [list of files] |
| mipsel | 1,486.2 kB | 4,047.0 kB | [list of files] |
| ppc64el | 1,659.2 kB | 5,019.0 kB | [list of files] |
| s390x | 1,486.5 kB | 4,066.0 kB | [list of files] |