Package: ne (3.1.2-1)
Links for ne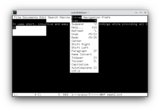 Debian Resources:
Download Source Package ne:
Maintainer:
External Resources:
Similar packages:
easy-to-use and powerful text editor
Ne, the nice editor, is one of the few text editors being both easy to use for the beginner and powerful enough for the wizard, supporting UTF-8 and multi-column characters as well as syntax highlighting.
It uses short, intuitive and easy to remember key bindings while providing all the features an editor should have. It is fully configurable allowing the user to change the content of the various menus, to easily create small macros and to easily change the existing key bindings while being a small and fast editor.
Other Packages Related to ne
dep:

libc6 (>= 2.14) [amd64]

GNU C Library: Shared libraries
also a virtual package provided by libc6-udeb

dep:

libc6 (>= 2.17) [arm64, ppc64el]

dep:

libc6 (>= 2.4) [not amd64, arm64, ppc64el]

dep:

libtinfo6 (>= 6)

shared low-level terminfo library for terminal handling
rec:

ne-doc

documentation for the ne text editor