Package: kexi (1:3.2.0-2)
Links for kexi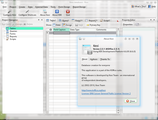 Debian Resources:
Download Source Package kexi:
Maintainers:
External Resources:
Similar packages:
visual database applications builder
KEXI is a visual database applications builder. It can be used for designing database applications, inserting and editing data, performing queries, and processing data. Forms can be created to provide a custom interface to your data. All database objects - tables, queries, forms, reports - are stored in the database, making it easy to share data and design.
KEXI is considered as a long awaited Open Source competitor for MS Access, Filemaker and Oracle Forms. Its development is motivated by the lack of Rapid Application Development (RAD) tools for database systems that are sufficiently powerful, inexpensive, open standards driven and portable across many operating systems and hardware platforms.
Other Packages Related to kexi
RCC resources for the breeze icon theme

dep:

kexi-data (>= 1:3.2.0-2)

data files for kexi

dep:

kio

resource and network access abstraction

dep:

libc6 (>= 2.14) [amd64]

GNU C Library: Shared libraries
also a virtual package provided by libc6-udeb

dep:

libc6 (>= 2.17) [arm64, ppc64el]

dep:

libc6 (>= 2.7) [not amd64, arm64, ppc64el]

dep:

libgcc1 (>= 1:3.5) [armel, armhf]

Package not available

dep:

libgcc1 (>= 1:4.2) [i386, mipsel]

dep:

libglib2.0-0 (>= 2.12.0)

GLib library of C routines

dep:

libkdb3-4abi1 (>= 3.2.0)

database connectivity and creation framework -- shared library

SQLite driver for KDb

dep:

libkf5codecs5 (>= 4.96.0)

collection of methods to manipulate strings

dep:

libkf5completion5 (>= 4.97.0)

Widgets with advanced auto-completion features.

dep:

libkf5configcore5 (>= 4.97.0)

configuration settings framework for Qt

dep:

libkf5configgui5 (>= 4.97.0)

configuration settings framework for Qt

dep:

libkf5configwidgets5 (>= 4.96.0)

Extra widgets for easier configuration support.

dep:

libkf5coreaddons5 (>= 5.16.0)

KDE Frameworks 5 addons to QtCore

dep:

libkf5crash5 (>= 5.15.0)

Support for application crash analysis and bug report from apps

dep:

libkf5guiaddons5 (>= 4.96.0)

additional addons for QtGui

dep:

libkf5i18n5 (>= 4.97.0)

Advanced internationalization framework.

dep:

libkf5iconthemes5 (>= 4.96.0)

Support for icon themes.

dep:

libkf5itemviews5 (>= 4.96.0)

Qt library with additional widgets for ItemModels

dep:

libkf5kiocore5 (>= 5.16.0)

resource and network access abstraction (KIO core library)

dep:

libkf5kiofilewidgets5 (>= 5.16.0)

resource and network access abstraction (KIO file widgets library)

dep:

libkf5kiowidgets5 (>= 5.35.0)

resource and network access abstraction (KIO widgets library)

dep:

libkf5texteditor5 (>= 5.16.0)

provide advanced plain text editing services

dep:

libkf5textwidgets5 (>= 4.96.0)

Advanced text editing widgets.

dep:

libkf5widgetsaddons5 (>= 5.13.0)

add-on widgets and classes for applications that use the Qt Widgets module

dep:

libkf5xmlgui5 (>= 4.98.0)

User configurable main windows.

dep:

libkpropertycore3-4 (>= 3.1.91~)

property editing framework -- core library

dep:

libkpropertywidgets3-4 (>= 3.1.91~)

property editing framework -- widgets library

dep:

libkreport3-4 (>= 3.1.91~)

report creation and generation framework -- shared library

dep:

libqt5core5a (>= 5.12.2)

Qt 5 core module

dep:

libqt5gui5 (>= 5.7.0)

Qt 5 GUI module

or libqt5gui5-gles (>= 5.7.0)

Qt 5 GUI module — OpenGL ES variant

dep:

libqt5printsupport5 (>= 5.4.0)

Qt 5 print support module

dep:

libqt5widgets5 (>= 5.11.0~rc1)

Qt 5 widgets module

dep:

libqt5xml5 (>= 5.4.0)

Qt 5 XML module

dep:

libstdc++6 (>= 5)

GNU Standard C++ Library v3
Download kexi
Download for all available architectures

| Architecture | Package Size | Installed Size | Files |
| --- | --- | --- | --- |
| amd64 | 1,555.2 kB | 7,576.0 kB | [list of files] |
| arm64 | 1,462.4 kB | 7,739.0 kB | [list of files] |
| armel | 1,335.0 kB | 6,008.0 kB | [list of files] |
| armhf | 1,380.9 kB | 4,968.0 kB | [list of files] |
| i386 | 1,779.4 kB | 7,751.0 kB | [list of files] |
| mips64el | 1,367.9 kB | 8,293.0 kB | [list of files] |
| mipsel | 1,365.5 kB | 7,489.0 kB | [list of files] |
| ppc64el | 1,632.7 kB | 10,168.0 kB | [list of files] |
| s390x | 1,425.8 kB | 8,119.0 kB | [list of files] |