Package: corekeeper (1.7)
Links for corekeeper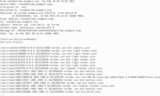 Debian Resources:
Download Source Package corekeeper:
Maintainer:
Similar packages:
enable core files and report crashes to the sysadmin
corekeeper enables core files, reports crashes to the sysadmin and deletes old core files after 7 days.
Core file dumping is enabled for all users, to restrict that, please remove or edit the config file at /etc/security/limits.d/corekeeper.conf
On Linux core files are written to private per-userid dirs in /var/crash. Linux 3.6 and earlier have an issue that means all core files are written to the directory for root. If your system is running Linux 3.6 or earlier and is single-user (or you don't care about the privacy of core file names), you can avoid this issue by editing /etc/sysctl.d/corekeeper.conf.
On kFreeBSD files are written to /var/crash, kernel limitations prevent core files from being written to private per-userid dirs.
To fully remove this package it needs to be purged and the system rebooted.
Other Packages Related to corekeeper
dep:

procps

/proc file system utilities