Package: tio (1.20-1)
Links for tio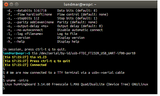 Debian Resources:
Download Source Package tio:
Maintainer:
External Resources:
Similar packages:
simple TTY terminal I/O application
"tio" is a simple TTY terminal application which features a straightforward commandline interface to easily connect to TTY devices for basic input/output.
Besides that, it is able to automatically reconnect to TTY devices which disappear intermittently, e.g. USB-to-serial converters.
Other Packages Related to tio
dep:

libc6 (>= 2.15) [not arm64, ppc64el]

GNU C Library: Shared libraries
also a virtual package provided by libc6-udeb

dep:

libc6 (>= 2.17) [arm64, ppc64el]