[ squeeze ]
Package: listen (0.6.5-4)
Links for listen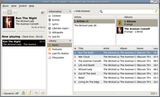 Debian Resources:
Download Source Package listen:
Maintainer:
External Resources:
Similar packages:
music player and manager for GNOME
Listen is an audio player which helps you to organize your music collections.
It supports many features such as Podcasts management, browse Shoutcast directory, and provides direct access to lyrics, lastfm and wikipedia information.
It intuitively creates playlists for you by retrieving information from lastfm and what you most frequently listen to.
Other Packages Related to listen
GStreamer plugins from the "bad" set

sug:

icecast2

Ogg Vorbis and MP3 streaming media server
MPEG Layer III Streaming Server

sug:

libtunepimp5

MusicBrainz tagging library

sug:

python-sexy

Package not available
Download listen
Download for all available architectures

| Architecture | Package Size | Installed Size | Files |
| --- | --- | --- | --- |
| amd64 | 757.9 kB | 2,928.0 kB | [list of files] |
| armel | 764.4 kB | 3,368.0 kB | [list of files] |
| i386 | 759.6 kB | 3,356.0 kB | [list of files] |
| ia64 | 771.6 kB | 3,376.0 kB | [list of files] |
| kfreebsd-amd64 | 758.0 kB | 2,832.0 kB | [list of files] |
| kfreebsd-i386 | 757.5 kB | 2,830.0 kB | [list of files] |
| mips | 769.6 kB | 3,368.0 kB | [list of files] |
| mipsel | 757.6 kB | 3,368.0 kB | [list of files] |
| powerpc | 770.9 kB | 3,368.0 kB | [list of files] |
| s390 | 759.1 kB | 3,368.0 kB | [list of files] |
| sparc | 769.3 kB | 3,368.0 kB | [list of files] |