Package: grisbi (0.6.0-1)
Links for grisbi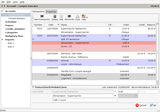 Debian Resources:
Download Source Package grisbi:
Maintainers:
External Resources:
Similar packages:
personal finance management program
Grisbi is a personal accounting program. Grisbi can manage multiple accounts, currencies and users. It manages third party, expenditure and receipt categories, as well as budgetary lines, financial years, and other information that make it adapted for both personal and associative accounting.
Grisbi can import accounts from QIF, OFX and Gnucash files. It can print reports using LaTeX or export them via HTML.
Other Packages Related to grisbi
sug:

texlive

TeX Live: A decent selection of the TeX Live packages

sug:

www-browser

virtual package provided by chimera2, chromium-browser, conkeror, edbrowse, elinks, elinks-lite, elvis, elvis-console, epiphany-browser, galeon, iceape-browser, iceweasel, kazehakase, konqueror, links, links2, lynx-cur, midori, netrik, rekonq, uzbl, w3m, xemacs21-mule, xemacs21-mule-canna-wnn, xemacs21-nomule
Download grisbi
Download for all available architectures

| Architecture | Package Size | Installed Size | Files |
| --- | --- | --- | --- |
| amd64 | 545.3 kB | 1,456.0 kB | [list of files] |
| armel | 490.7 kB | 1,276.0 kB | [list of files] |
| i386 | 490.4 kB | 1,408.0 kB | [list of files] |
| ia64 | 781.9 kB | 3,120.0 kB | [list of files] |
| kfreebsd-amd64 | 545.1 kB | 1,420.0 kB | [list of files] |
| kfreebsd-i386 | 490.0 kB | 1,364.0 kB | [list of files] |
| mips | 496.9 kB | 1,872.0 kB | [list of files] |
| mipsel | 494.1 kB | 1,872.0 kB | [list of files] |
| powerpc | 524.3 kB | 1,440.0 kB | [list of files] |
| s390 | 527.6 kB | 1,424.0 kB | [list of files] |
| sparc | 503.8 kB | 1,368.0 kB | [list of files] |