Package: evolution (2.30.3-5)
Links for evolution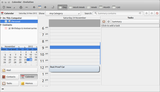 Debian Resources:
Download Source Package evolution:
Maintainers:
External Resources:
Similar packages:
groupware suite with mail client and organizer
Evolution is a groupware suite which integrates mail, calendar, address book, to-do list and memo tools.
Additional features include integration with Exchange and Groupwise servers, newsgroup client, LDAP support, web calendars and synchronization with Palm devices.
Evolution is a graphical application that is part of GNOME, and is distributed by Novell, Inc.
See http://www.novell.com/products/evolution/ for more information.
The following plugins belonging to the "base" set are included.

 - calendar-file
 - calendar-http
 - calendar-weather
 - itip-formatter
 - plugin-manager
 - default-source
 - addressbook-file
 - startup-wizard
 - print-message
 - mark-all-read
 - groupwise-features
 - groupwise-account-setup
 - hula-account-setup
 - mail-account-disable
 - publish-calendar
 - caldav
 - imap-features
 - google-account-setup
 - sa-junk-plugin
 - bogo-junk-plugin
 - mono

Other Packages Related to evolution
Download evolution
Download for all available architectures

| Architecture | Package Size | Installed Size | Files |
| --- | --- | --- | --- |
| amd64 | 1,107.7 kB | 4,724.0 kB | [list of files] |
| armel | 1,083.5 kB | 4,576.0 kB | [list of files] |
| i386 | 1,087.9 kB | 4,596.0 kB | [list of files] |
| ia64 | 1,177.6 kB | 5,128.0 kB | [list of files] |
| kfreebsd-amd64 | 1,109.2 kB | 4,598.0 kB | [list of files] |
| kfreebsd-i386 | 1,087.6 kB | 4,504.0 kB | [list of files] |
| mips | 1,082.5 kB | 4,696.0 kB | [list of files] |
| mipsel | 1,078.4 kB | 4,696.0 kB | [list of files] |
| powerpc | 1,102.6 kB | 4,656.0 kB | [list of files] |
| s390 | 1,111.5 kB | 4,672.0 kB | [list of files] |
| sparc | 1,089.6 kB | 4,612.0 kB | [list of files] |