Package: krb5-auth-dialog (3.15.4-1)
Links for krb5-auth-dialog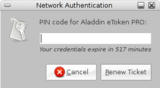 Debian Resources:
Maintainer:
External Resources:
Similar packages:
Experimental package
Warning: This package is from the experimental distribution. That means it is likely unstable or buggy, and it may even cause data loss. Please be sure to consult the changelog and other possible documentation before using it.
tray applet for reauthenticating kerberos tickets
krb5-auth-dialog is a simple tray applet that monitors kerberos tickets. It pops up reminders when the ticket is about to expire. Tickets can be refreshed at any time by clicking on the tray icon. It can also operate in "classic mode" as a simple dialog without any trayicon.
It features ticket autorenewal and supports pkinit.
Other Packages Related to krb5-auth-dialog
Download krb5-auth-dialog
Download for all available architectures

| Architecture | Package Size | Installed Size | Files |
| --- | --- | --- | --- |
| alpha (unofficial port) | 303.8 kB | 1,563.0 kB | [list of files] |
| amd64 | 303.3 kB | 1,541.0 kB | [list of files] |
| arm64 | 304.3 kB | 1,192.0 kB | [list of files] |
| armel | 300.1 kB | 1,518.0 kB | [list of files] |
| armhf | 299.5 kB | 1,504.0 kB | [list of files] |
| hppa (unofficial port) | 304.1 kB | 1,549.0 kB | [list of files] |
| i386 | 305.1 kB | 1,183.0 kB | [list of files] |
| mips | 302.2 kB | 1,194.0 kB | [list of files] |
| mipsel | 301.7 kB | 1,546.0 kB | [list of files] |
| powerpc | 301.1 kB | 1,537.0 kB | [list of files] |
| ppc64 (unofficial port) | 303.3 kB | 1,572.0 kB | [list of files] |
| ppc64el | 302.4 kB | 1,207.0 kB | [list of files] |
| s390x | 304.6 kB | 1,556.0 kB | [list of files] |
| x32 (unofficial port) | 303.1 kB | 1,524.0 kB | [list of files] |