Package: warmux (1:11.04.1+repack2-4)
Links for warmux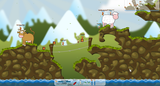 Debian Resources:
Download Source Package warmux:
Maintainers:
Similar packages:
turn-based artillery game on 2D maps
WarMUX is a free game in the genre of "turn-based artillery games" like Scorched Earth or Worms. Several players can play together, either locally or over the network. It is also possible to compete against computer-driven teams. The teams are styled after the mascots of various free software projects.
Other Packages Related to warmux
Download warmux
Download for all available architectures

| Architecture | Package Size | Installed Size | Files |
| --- | --- | --- | --- |
| alpha (unofficial port) | 603.9 kB | 2,336.0 kB | [list of files] |
| amd64 | 607.1 kB | 2,069.0 kB | [list of files] |
| arm64 | 569.7 kB | 2,013.0 kB | [list of files] |
| armel | 538.8 kB | 1,784.0 kB | [list of files] |
| armhf | 563.8 kB | 1,412.0 kB | [list of files] |
| hppa (unofficial port) | 584.2 kB | 2,005.0 kB | [list of files] |
| hurd-i386 | 698.6 kB | 2,359.0 kB | [list of files] |
| i386 | 697.8 kB | 2,367.0 kB | [list of files] |
| kfreebsd-amd64 | 606.9 kB | 2,065.0 kB | [list of files] |
| kfreebsd-i386 | 698.1 kB | 2,363.0 kB | [list of files] |
| m68k (unofficial port) | 447.0 kB | 1,682.0 kB | [list of files] |
| mips | 605.8 kB | 2,423.0 kB | [list of files] |
| mips64el | 560.7 kB | 2,508.0 kB | [list of files] |
| mipsel | 610.9 kB | 2,419.0 kB | [list of files] |
| powerpcspe (unofficial port) | 541.4 kB | 1,875.0 kB | [list of files] |
| ppc64 (unofficial port) | 634.4 kB | 2,778.0 kB | [list of files] |
| ppc64el | 630.5 kB | 2,517.0 kB | [list of files] |
| riscv64 (unofficial port) | 546.9 kB | 1,553.0 kB | [list of files] |
| s390x | 561.6 kB | 2,169.0 kB | [list of files] |
| sh4 (unofficial port) | 595.8 kB | 1,542.0 kB | [list of files] |
| sparc64 (unofficial port) | 488.6 kB | 1,937.0 kB | [list of files] |
| x32 (unofficial port) | 594.3 kB | 1,844.0 kB | [list of files] |