Package: w3m (0.5.3+git20220429-1 and others)
Links for w3m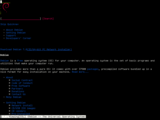 Debian Resources:
Download Source Package w3m:
Maintainers:
External Resources:
Similar packages:
WWW browsable pager with excellent tables/frames support
w3m is a text-based World Wide Web browser with IPv6 support. It features excellent support for tables and frames. It can be used as a standalone file pager, too.

 * You can follow links and/or view images in HTML.
 * Internet message preview mode, you can browse HTML mail.
 * You can follow links in plain text if it includes URL forms.
 * With w3m-img, you can view inline images.

This package provides Debian's w3m, forked from the original version <https://sourceforge.net/projects/w3m/>.
Other Packages Related to w3m
Download w3m
Download for all available architectures

| Architecture | Version | Package Size | Installed Size | Files |
| --- | --- | --- | --- | --- |
| alpha (unofficial port) | 0.5.3+git20220429-1 | 1,119.7 kB | 3,042.0 kB | [list of files] |
| amd64 | 0.5.3+git20220429-1+b1 | 1,108.4 kB | 2,835.0 kB | [list of files] |
| arm64 | 0.5.3+git20220429-1+b1 | 1,039.2 kB | 2,852.0 kB | [list of files] |
| armel | 0.5.3+git20220429-1+b1 | 1,001.3 kB | 2,423.0 kB | [list of files] |
| armhf | 0.5.3+git20220429-1+b1 | 1,004.0 kB | 2,227.0 kB | [list of files] |
| hppa (unofficial port) | 0.5.3+git20220429-1+b1 | 984.7 kB | 2,346.0 kB | [list of files] |
| i386 | 0.5.3+git20220429-1+b1 | 1,081.7 kB | 2,594.0 kB | [list of files] |
| ia64 (unofficial port) | 0.5.3+git20220429-1+b1 | 1,180.3 kB | 3,824.0 kB | [list of files] |
| m68k (unofficial port) | 0.5.3+git20220429-1+b1 | 985.5 kB | 2,478.0 kB | [list of files] |
| mips64el | 0.5.3+git20220429-1+b1 | 1,046.0 kB | 2,934.0 kB | [list of files] |
| mipsel | 0.5.3+git20220429-1+b1 | 1,041.2 kB | 2,628.0 kB | [list of files] |
| ppc64 (unofficial port) | 0.5.3+git20220429-1+b1 | 1,075.1 kB | 3,345.0 kB | [list of files] |
| ppc64el | 0.5.3+git20220429-1+b1 | 1,116.0 kB | 3,281.0 kB | [list of files] |
| riscv64 (unofficial port) | 0.5.3+git20220429-1+b1 | 1,016.9 kB | 2,648.0 kB | [list of files] |
| s390x | 0.5.3+git20220429-1+b1 | 1,050.1 kB | 2,907.0 kB | [list of files] |
| sh4 (unofficial port) | 0.5.3+git20220429-1+b1 | 1,105.9 kB | 2,433.0 kB | [list of files] |
| sparc64 (unofficial port) | 0.5.3+git20220429-1+b1 | 994.0 kB | 2,873.0 kB | [list of files] |
| x32 (unofficial port) | 0.5.3+git20220429-1+b1 | 1,074.8 kB | 2,522.0 kB | [list of files] |