Package: vistrails (2.2.4-1 and others)
Links for vistrails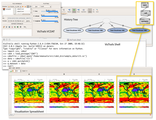 Debian Resources:
Download Source Package vistrails:
Maintainer:
External Resources:
Similar packages:
Science visualisation workflow toolkit
VisTrails is an open-source scientific workflow and provenance management system developed at the University of Utah that provides support for data exploration and visualization. Whereas workflows have been traditionally used to automate repetitive tasks, for applications that are exploratory in nature, such as simulations, data analysis and visualization, very little is repeated---change is the norm. As an engineer or scientist generates and evaluates hypotheses about data under study, a series of different, albeit related, workflows are created while a workflow is adjusted in an interactive process. VisTrails was designed to manage these rapidly-evolving workflows.
Other Packages Related to vistrails
dep:

jupyter-qtconsole [all]

Jupyter - Qt console (binaries)

dep:

python

interactive high-level object-oriented language (Python2 version)

dep:

python-matplotlib

Python based plotting system in a style similar to Matlab

dep:

python-numpy [all]

Numerical Python adds a fast array facility to the Python language

dep:

python-numpy (<< 1:1.6) [not all]

dep:

python-numpy (>= 1:1.5.1) [not all]

dep:

python-qt4

Python bindings for Qt4

dep:

python-qt4-gl

Python bindings for Qt4's OpenGL module

dep:

python-qt4-sql [all]

Python bindings for PyQt4's SQL module

dep:

python-scipy

scientific tools for Python

dep:

python-sip

Python/C++ bindings generator runtime library

dep:

python-sklearn [all]

Python modules for machine learning and data mining - Python 2

dep:

python-sqlalchemy [all]

SQL toolkit and Object Relational Mapper for Python

dep:

python-suds

Lightweight SOAP client for Python - Python 2.7

dep:

python-support (>= 0.90.0) [not all]

Package not available

dep:

python-usagestats [all]

Python module to collect usagestats from users

dep:

python-vtk [not all]

Python bindings for VTK

dep:

python-vtk6 [all]

Python bindings for VTK

dep:

python-xlrd [all]

extract data from Microsoft Excel spreadsheet files
Download vistrails
Download for all available architectures

| Architecture | Version | Package Size | Installed Size | Files |
| --- | --- | --- | --- | --- |
| all | 2.2.4-1 | 16,404.9 kB | 44,302.0 kB | [list of files] |
| alpha (unofficial port) | 2.0.alpha~1-2 | 15,797.0 kB | 28,978.0 kB | [list of files] |
| sh4 (unofficial port) | 2.0.alpha~1-2 | 15,802.5 kB | 31,944.0 kB | [list of files] |
| sparc64 (unofficial port) | 2.0.alpha~1-2 | 15,785.3 kB | 27,951.0 kB | [list of files] |