Package: unzip (6.0-28)
Links for unzip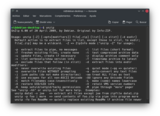 Debian Resources:
Download Source Package unzip:
Maintainer:
External Resources:
Similar packages:
De-archiver for .zip files
InfoZIP's unzip program. With the exception of multi-volume archives (ie, .ZIP files that are split across several disks using PKZIP's /& option), this can handle any file produced either by PKZIP, or the corresponding InfoZIP zip program.
This version supports encryption.
Other Packages Related to unzip
dep:

libbz2-1.0

high-quality block-sorting file compressor library - runtime

dep:

libc6 (>= 2.34) [not alpha, ia64, sh4]

GNU C Library: Shared libraries
also a virtual package provided by libc6-udeb

dep:

libc6 (>= 2.36) [sh4]

dep:

libc6.1 (>= 2.34) [alpha]

GNU C Library: Shared libraries
also a virtual package provided by libc6.1-udeb

dep:

libc6.1 (>= 2.36) [ia64]
sug:

zip

Archiver for .zip files