Package: scribus (1.5.8+dfsg-4 and others)
Links for scribus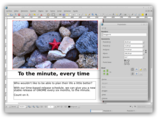 Debian Resources:
Download Source Package scribus:
Maintainer:
External Resources:
Similar packages:
Open Source Desktop Page Layout
Scribus is an open source desktop page layout program with the aim of producing commercial grade output in PDF and Postscript.
Scribus can be used for many tasks; from brochure design to newspapers, magazines, newsletters and posters to technical documentation.
Scribus supports professional DTP features, such as CMYK color and a color management system to soft proof images for high quality color printing, flexible PDF creation options, Encapsulated PostScript import/export and creation of 4 color separations, import of EPS/PS and SVG as native vector graphics, Unicode text including right to left scripts such as Arabic and Hebrew via freetype. Graphic formats which can be placed in Scribus as images include PDF, Encapsulated Post Script (eps), TIFF, JPEG, PNG and XPixMap(xpm), and any bitmap type supported by QT5.
If you need to use the render frame install the texlive-latex-recommended package (suggested).
Other Packages Related to scribus
dep:

ghostscript

interpreter for the PostScript language and for PDF

dep:

libc6 (>= 2.34) [riscv64]

GNU C Library: Shared libraries
also a virtual package provided by libc6-udeb

dep:

libc6 (>= 2.35) [not alpha, ia64, riscv64, sh4]

dep:

libc6 (>= 2.37) [sh4]

dep:

libc6.1 (>= 2.28) [ia64]

GNU C Library: Shared libraries
also a virtual package provided by libc6.1-udeb

dep:

libc6.1 (>= 2.35) [alpha]

dep:

libcairo2 (>= 1.14.0) [not ia64]

Cairo 2D vector graphics library

dep:

libcairo2 (>= 1.2.4) [ia64]

dep:

libcdr-0.1-1 [not ia64]

library for reading and converting Corel DRAW files

dep:

libcups2 (>= 1.4.0)

Common UNIX Printing System(tm) - Core library

dep:

libfontconfig1 (>= 2.12.6)

generic font configuration library - runtime

dep:

libfreehand-0.1-1 [not ia64]

Library for parsing the FreeHand file format structure

dep:

libfreetype6 (>= 2.2.1) [ia64]

FreeType 2 font engine, shared library files

dep:

libfreetype6 (>= 2.4.2) [not ia64]

dep:

libgcc-s1 (>= 3.0) [amd64, arm64, mips64el, ppc64, ppc64el, s390x, x32]

GCC support library

dep:

libgcc-s1 (>= 3.4) [alpha, riscv64, sparc64]

dep:

libgcc-s1 (>= 3.5) [armel, armhf]

dep:

libgcc-s1 (>= 4.2) [i386, sh4]

dep:

libgcc-s2 (>= 4.2.1) [m68k]

GCC support library

dep:

libgcc-s4 (>= 4.1.1) [hppa]

GCC support library

dep:

libgcc1 (>= 1:4.2) [ia64]

Package not available

dep:

libgraphicsmagick-q16-3 (>= 1.3.5) [not ia64]

format-independent image processing - C shared library

dep:

libharfbuzz-icu0 (>= 0.9.9) [not ia64]

OpenType text shaping engine ICU backend

dep:

libharfbuzz-subset0 (>= 6.0.0) [not ia64, x32]

OpenType text shaping engine (subset library)

dep:

libharfbuzz0b (>= 0.9.42) [not ia64]

OpenType text shaping engine (shared library)

dep:

libhunspell-1.7-0

spell checker and morphological analyzer (shared library)

dep:

libhyphen0 (>= 2.7.1) [ia64]

ALTLinux hyphenation library - shared library

dep:

libicu72 (>= 72.1~rc-1~) [not ia64]

International Components for Unicode

dep:

libjpeg62-turbo (>= 1.3.1)

libjpeg-turbo JPEG runtime library

dep:

liblcms2-2 (>= 2.2+git20110628)

Little CMS 2 color management library

dep:

libmspub-0.1-1 [not ia64]

library for parsing the mspub file structure

dep:

libopenscenegraph161 (>= 3.6.5+dfsg1) [not ia64]

3D scene graph, shared libs

dep:

libopenthreads21 (>= 3.6.5+dfsg1) [not ia64]

Object-Oriented (OO) thread interface for C++, shared libs

dep:

libpagemaker-0.0-0 [not ia64]

Library for importing and converting PageMaker Documents

dep:

libpng16-16 (>= 1.6.2-1) [not ia64]

PNG library - runtime (version 1.6)

dep:

libpodofo0.9.6 (>= 0.9.6+dfsg) [ia64]

Package not available

dep:

libpodofo0.9.8 (>= 0.9.8+dfsg) [not ia64]

PoDoFo - library to work with the PDF file format

dep:

libpoppler123 (>= 22.08.0) [x32]

PDF rendering library

dep:

libpoppler126 (>= 22.12.0) [not ia64, x32]

PDF rendering library

dep:

libpython2.7 (>= 2.7) [ia64]

Package not available

dep:

libpython3.10 (>= 3.10.0) [x32]

Shared Python runtime library (version 3.10)

dep:

libpython3.11 (>= 3.11.0) [not ia64, x32]

Shared Python runtime library (version 3.11)

dep:

libqt4-network (>= 4:4.5.3) [ia64]

Package not available

dep:

libqt4-xml (>= 4:4.5.3) [ia64]

Package not available

dep:

libqt5core5a (>= 5.15.1) [not ia64]

Qt 5 core module

dep:

libqt5gui5 (>= 5.14.1) [not ia64]

Qt 5 GUI module

or libqt5gui5-gles (>= 5.14.1)

Qt 5 GUI module — OpenGL ES variant

dep:

libqt5network5 (>= 5.14) [not ia64]

Qt 5 network module

dep:

libqt5opengl5 (>= 5.14) [not ia64]

Qt 5 OpenGL module

dep:

libqt5printsupport5 (>= 5.14) [not ia64]

Qt 5 print support module

dep:

libqt5widgets5 (>= 5.15.1) [not ia64]

Qt 5 widgets module

dep:

libqt5xml5 (>= 5.14) [not ia64]

Qt 5 XML module

dep:

libqtcore4 (>= 4:4.7.0~beta1) [ia64]

Package not available

dep:

libqtgui4 (>= 4:4.8.0) [ia64]

Package not available

dep:

libqxp-0.0-0 [not ia64]

library for reading and converting QuarkXPress files

dep:

librevenge-0.0-0 [not ia64]

Base Library for writing document interface filters

dep:

libstdc++6 (>= 11) [not ia64, sh4]

GNU Standard C++ Library v3

dep:

libstdc++6 (>= 13.1) [sh4]

dep:

libstdc++6 (>= 5.2) [ia64]

dep:

libtiff5 (>= 4.0.3) [ia64, x32]

Package not available

dep:

libtiff6 (>= 4.0.3) [not ia64, x32]

Tag Image File Format (TIFF) library

dep:

libunwind8 [ia64]

library to determine the call-chain of a program - runtime

dep:

libvisio-0.1-1 [not ia64]

library for parsing the visio file structure

dep:

libxml2 (>= 2.7.4)

GNOME XML library

dep:

libzmf-0.0-0 [not ia64]

Zoner Draw/Zebra file reading/converting library

dep:

python-tk [ia64]

Package not available

dep:

scribus-data (= 1.4.8+dfsg-1) [ia64]

Open Source Desktop Page Layout - data files

dep:

scribus-data (= 1.5.8+dfsg-3) [x32]

dep:

scribus-data (= 1.5.8+dfsg-4) [not ia64, x32]
Download scribus
Download for all available architectures

| Architecture | Version | Package Size | Installed Size | Files |
| --- | --- | --- | --- | --- |
| alpha (unofficial port) | 1.5.8+dfsg-4+b1 | 7,649.2 kB | 41,387.0 kB | [list of files] |
| amd64 | 1.5.8+dfsg-4+b4 | 7,688.0 kB | 30,242.0 kB | [list of files] |
| arm64 | 1.5.8+dfsg-4+b4 | 6,783.4 kB | 31,301.0 kB | [list of files] |
| armel | 1.5.8+dfsg-4+b4 | 6,468.2 kB | 26,237.0 kB | [list of files] |
| armhf | 1.5.8+dfsg-4+b4 | 6,383.5 kB | 20,145.0 kB | [list of files] |
| hppa (unofficial port) | 1.5.8+dfsg-4+b4 | 7,823.2 kB | 37,000.0 kB | [list of files] |
| i386 | 1.5.8+dfsg-4+b4 | 8,294.9 kB | 31,305.0 kB | [list of files] |
| ia64 (unofficial port) | 1.4.8+dfsg-1 | 6,065.8 kB | 44,190.0 kB | [list of files] |
| m68k (unofficial port) | 1.5.8+dfsg-4 | 7,808.0 kB | 32,407.0 kB | [list of files] |
| mips64el | 1.5.8+dfsg-4+b4 | 6,474.8 kB | 39,146.0 kB | [list of files] |
| ppc64 (unofficial port) | 1.5.8+dfsg-4+b4 | 7,246.6 kB | 40,901.0 kB | [list of files] |
| ppc64el | 1.5.8+dfsg-4+b4 | 7,383.5 kB | 38,533.0 kB | [list of files] |
| riscv64 (unofficial port) | 1.5.8+dfsg-4+b4 | 7,206.5 kB | 25,949.0 kB | [list of files] |
| s390x | 1.5.8+dfsg-4+b4 | 6,696.6 kB | 31,017.0 kB | [list of files] |
| sh4 (unofficial port) | 1.5.8+dfsg-4 | 9,496.0 kB | 32,917.0 kB | [list of files] |
| sparc64 (unofficial port) | 1.5.8+dfsg-4+b1 | 6,427.4 kB | 89,263.0 kB | [list of files] |
| x32 (unofficial port) | 1.5.8+dfsg-3 | 7,778.7 kB | 28,407.0 kB | [list of files] |