Package: scalpel (1.60-9)
Links for scalpel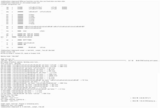 Debian Resources:
Download Source Package scalpel:
Maintainer:
External Resources:
Similar packages:
fast filesystem-independent file recovery
scalpel is a fast file carver that reads a database of header and footer definitions and extracts matching files from a set of image files or raw device files.
scalpel is filesystem-independent and will carve files from FAT16, FAT32, exFAT, NTFS, Ext2, Ext3, Ext4, JFS, XFS, ReiserFS, raw partitions, etc.
scalpel is a complete rewrite of the Foremost 0.69 file carver and is useful for both digital forensics investigations and file recovery.
Other Packages Related to scalpel
dep:

libc6 (>= 2.28) [not alpha, sh4]

GNU C Library: Shared libraries
also a virtual package provided by libc6-udeb

dep:

libc6 (>= 2.30) [sh4]

dep:

libc6.1 (>= 2.28) [alpha]

GNU C Library: Shared libraries
also a virtual package provided by libc6.1-udeb