Package: quassel-client (1:0.13.1-5 and others)
Links for quassel-client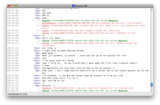 Debian Resources:
Download Source Package quassel:
Maintainers:
External Resources:
Similar packages:
distributed IRC client - client component
Quassel is a modern, cross-platform, distributed IRC client, meaning that one or more clients can attach to and detach from the central core. It's much like the popular combination of screen and a text-based IRC client such as WeeChat or irssi, but graphical.
This package provides only the client component.
Other Packages Related to quassel-client
virtual package provided by dbus-user-session
virtual package provided by dbus-user-session, dbus-x11

dep:

libc6.1 (>= 2.27) [alpha]

GNU C Library: Shared libraries
also a virtual package provided by libc6.1-udeb

dep:

libdbusmenu-qt5-2 (>= 0.3.2)

Qt implementation of the DBusMenu protocol

dep:

libgcc-s1 (>= 3.0) [amd64, arm64, mips64el, ppc64, ppc64el, s390x, x32]

GCC support library

dep:

libgcc-s1 (>= 3.4) [alpha, riscv64, sh4]

dep:

libgcc-s1 (>= 3.5) [armel, armhf]

dep:

libgcc-s1 (>= 4.2) [i386, mipsel]

dep:

libgcc-s2 (>= 4.2.1) [m68k]

GCC support library

dep:

libgcc-s4 (>= 4.1.1) [hppa]

GCC support library

dep:

libgcc1 (>= 1:3.4) [sparc64]

Package not available

dep:

libkf5configwidgets5 (>= 4.96.0)

Extra widgets for easier configuration support.

dep:

libkf5coreaddons5 (>= 5.2.0)

KDE Frameworks 5 addons to QtCore

dep:

libkf5notifications5 (>= 4.96.0)

Framework for desktop notifications

dep:

libkf5notifyconfig5 (>= 4.96.0)

Configuration system for KNotify.

dep:

libkf5sonnetui5 (>= 4.96.0)

spell checking library for Qt, ui lib

dep:

libkf5textwidgets5 (>= 4.96.0)

Advanced text editing widgets.

dep:

libkf5widgetsaddons5 (>= 4.96.0)

add-on widgets and classes for applications that use the Qt Widgets module

dep:

libkf5xmlgui5 (>= 4.98.0)

User configurable main windows.

dep:

libqt5core5a (>= 5.14.1) [sh4]

Qt 5 core module

dep:

libqt5core5a (>= 5.15.1) [not sh4, sparc64]

dep:

libqt5core5a (>= 5.8.0) [sparc64]

dep:

libqt5dbus5 (>= 5.0.2) [sparc64]

Qt 5 D-Bus module

dep:

libqt5dbus5 (>= 5.14.1) [not sparc64]

dep:

libqt5gui5 (>= 5.14.1) [not sparc64]

Qt 5 GUI module

or libqt5gui5-gles (>= 5.14.1)

Qt 5 GUI module — OpenGL ES variant

dep:

libqt5gui5 (>= 5.8.0) [sparc64]

Qt 5 GUI module

dep:

libqt5multimedia5 (>= 5.6.0~beta)

Qt 5 Multimedia module

dep:

libqt5network5 (>= 5.0.2) [sparc64]

Qt 5 network module

dep:

libqt5network5 (>= 5.14.1) [not sparc64]

dep:

libqt5webenginewidgets5 (>= 5.14.1) [amd64, arm64, armhf, i386, mipsel]

Web content engine library for Qt - Widget

dep:

libqt5webkit5 (>= 5.212.0~alpha3) [armel, mips64el, ppc64el, s390x]

Web content engine library for Qt

dep:

libqt5widgets5 (>= 5.11.0~rc1) [sparc64]

Qt 5 widgets module

dep:

libqt5widgets5 (>= 5.14.1) [sh4]

dep:

libqt5widgets5 (>= 5.15.1) [not sh4, sparc64]

dep:

libstdc++6 (>= 4.9)

GNU Standard C++ Library v3

dep:

quassel-data (= 1:0.13.1-1) [sparc64]

distributed IRC client - shared data

dep:

quassel-data (= 1:0.13.1-4) [hppa, sh4]

dep:

quassel-data (= 1:0.13.1-5) [not hppa, sh4, sparc64]

dep:

zlib1g (>= 1:1.1.4)

compression library - runtime
Download quassel-client
Download for all available architectures

| Architecture | Version | Package Size | Installed Size | Files |
| --- | --- | --- | --- | --- |
| alpha (unofficial port) | 1:0.13.1-5 | 1,168.3 kB | 5,467.0 kB | [list of files] |
| amd64 | 1:0.13.1-5 | 1,231.9 kB | 4,241.0 kB | [list of files] |
| arm64 | 1:0.13.1-5 | 1,086.5 kB | 4,173.0 kB | [list of files] |
| armel | 1:0.13.1-5 | 1,101.4 kB | 3,956.0 kB | [list of files] |
| armhf | 1:0.13.1-5 | 1,128.6 kB | 3,112.0 kB | [list of files] |
| hppa (unofficial port) | 1:0.13.1-4 | 1,191.4 kB | 4,798.0 kB | [list of files] |
| i386 | 1:0.13.1-5 | 1,309.4 kB | 4,172.0 kB | [list of files] |
| m68k (unofficial port) | 1:0.13.1-5 | 1,257.7 kB | 4,404.0 kB | [list of files] |
| mips64el | 1:0.13.1-5 | 1,004.5 kB | 5,407.0 kB | [list of files] |
| mipsel | 1:0.13.1-5 | 1,025.9 kB | 5,037.0 kB | [list of files] |
| ppc64 (unofficial port) | 1:0.13.1-5 | 1,160.4 kB | 5,637.0 kB | [list of files] |
| ppc64el | 1:0.13.1-5 | 1,182.2 kB | 5,253.0 kB | [list of files] |
| riscv64 (unofficial port) | 1:0.13.1-5 | 1,156.7 kB | 3,798.0 kB | [list of files] |
| s390x | 1:0.13.1-5 | 1,075.4 kB | 4,353.0 kB | [list of files] |
| sh4 (unofficial port) | 1:0.13.1-4 | 1,399.4 kB | 4,201.0 kB | [list of files] |
| sparc64 (unofficial port) | 1:0.13.1-1 | 1,104.6 kB | 5,466.0 kB | [list of files] |
| x32 (unofficial port) | 1:0.13.1-5 | 1,235.6 kB | 3,848.0 kB | [list of files] |