Package: qthid-fcd-controller (4.1-6 and others)
Links for qthid-fcd-controller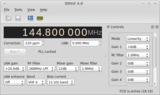 Debian Resources:
Maintainers:
External Resources:
Similar packages:
Funcube Dongle controller
Controller application for the Funcube Dongle software defined radio receiver, built using the HID API library and the Qt GUI toolkit.
The Funcube Dongle is a small software defined radio receiver for 64 MHz - 1.7 GHz. It fits into a computer's USB port and uses USB audio to transfer complex I/Q data to SDR applications. The control API for setting frequency, gain, filter, etc. uses the USB HID standard.
It provides full support for the Funcube Dongle API::

 * Change frequency and apply frequency correction.
 * Change RF gains and filters.
 * Change IF gains and filters.
 * LNA enhancement, bias current, etc.
 * I/Q correction.
 * Auto-repeat tuning buttons (click and hold button to scan).
 * Variable frequency step.
 * Upgrade and verify the firmware.

Other Packages Related to qthid-fcd-controller
rec:

udev

/dev/ and hotplug management daemon
sug:

gnuradio

GNU Radio Software Radio Toolkit

sug:

gqrx-sdr

Software defined radio receiver

sug:

gr-fcdproplus

Package not available

sug:

gr-osmosdr

Gnuradio blocks from the OsmoSDR project
Download qthid-fcd-controller