Package: qelectrotech (1:0.7.0-1 and others)
Links for qelectrotech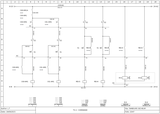 Debian Resources:
Download Source Package qelectrotech:
Maintainers:
External Resources:
Similar packages:
Electric schematic editor
QElectroTech is a Qt5 application written in C++ . This program helps you to design electrical schematic diagrams. It includes a schematic editor and a symbol editor. It uses XML files to store the produced contents.
Other Packages Related to qelectrotech
dep:

libatomic1 (>= 4.8) [m68k, sh4]

support library providing __atomic built-in functions

dep:

libc6.1 (>= 2.1.3) [alpha]

GNU C Library: Shared libraries
also a virtual package provided by libc6.1-udeb

dep:

libgcc1 (>= 1:3.0) [amd64, arm64, mips64el, ppc64, ppc64el, s390x, x32]

Package not available

dep:

libgcc1 (>= 1:3.4) [alpha, riscv64, sh4, sparc64]

dep:

libgcc1 (>= 1:3.5) [armel, armhf]

dep:

libgcc1 (>= 1:4.2) [i386, mipsel]

dep:

libgcc2 (>= 4.2.1) [m68k]

Package not available

dep:

libgcc4 (>= 4.1.1) [hppa]

Package not available

dep:

libgl1 [hppa, m68k, sh4, sparc64]

Vendor neutral GL dispatch library -- legacy GL support

dep:

libkf5coreaddons5 (>= 4.97.0)

KDE Frameworks 5 addons to QtCore

dep:

libkf5widgetsaddons5 (>= 4.96.0)

add-on widgets and classes for applications that use the Qt Widgets module

dep:

libqt5concurrent5 (>= 5.6.0~rc)

Qt 5 concurrent module

dep:

libqt5core5a (>= 5.12.2) [amd64, i386, x32]

Qt 5 core module

dep:

libqt5core5a (>= 5.5.1) [not amd64, i386, x32]

dep:

libqt5gui5 (>= 5.8.0) [armel, armhf]

Qt 5 GUI module

dep:

libqt5gui5 (>= 5.8.0) [not armel, armhf]

Qt 5 GUI module

or libqt5gui5-gles (>= 5.8.0)

Qt 5 GUI module — OpenGL ES variant

dep:

libqt5network5 (>= 5.0.2)

Qt 5 network module

dep:

libqt5printsupport5 (>= 5.2.0)

Qt 5 print support module

dep:

libqt5sql5 (>= 5.0.2)

Qt 5 SQL module

dep:

libqt5svg5 (>= 5.6.0~beta)

Qt 5 SVG module

dep:

libqt5widgets5 (>= 5.11.0~rc1) [armel, armhf]

Qt 5 widgets module

dep:

libqt5widgets5 (>= 5.12.2) [not armel, armhf]

dep:

libqt5xml5 (>= 5.0.2)

Qt 5 XML module

dep:

libstdc++6 (>= 5.2)

GNU Standard C++ Library v3
Download qelectrotech
Download for all available architectures

| Architecture | Version | Package Size | Installed Size | Files |
| --- | --- | --- | --- | --- |
| alpha (unofficial port) | 1:0.7.0-1+b1 | 2,703.4 kB | 11,901.0 kB | [list of files] |
| amd64 | 1:0.7.0-1+b1 | 2,765.2 kB | 10,507.0 kB | [list of files] |
| arm64 | 1:0.7.0-1+b1 | 2,622.8 kB | 10,486.0 kB | [list of files] |
| armel | 1:0.7.0-1 | 2,562.4 kB | 9,837.0 kB | [list of files] |
| armhf | 1:0.7.0-1 | 2,590.7 kB | 8,977.0 kB | [list of files] |
| hppa (unofficial port) | 1:0.7.0-1+b1 | 2,772.8 kB | 11,179.0 kB | [list of files] |
| i386 | 1:0.7.0-1+b1 | 2,871.9 kB | 10,602.0 kB | [list of files] |
| m68k (unofficial port) | 1:0.7.0-1+b1 | 2,807.2 kB | 10,733.0 kB | [list of files] |
| mips64el | 1:0.7.0-1+b1 | 2,642.9 kB | 12,312.0 kB | [list of files] |
| mipsel | 1:0.7.0-1+b1 | 2,656.0 kB | 11,951.0 kB | [list of files] |
| ppc64 (unofficial port) | 1:0.7.0-1+b1 | 2,711.8 kB | 12,272.0 kB | [list of files] |
| ppc64el | 1:0.7.0-1+b1 | 2,727.9 kB | 11,731.0 kB | [list of files] |
| riscv64 (unofficial port) | 1:0.7.0-1+b1 | 2,761.3 kB | 10,212.0 kB | [list of files] |
| s390x | 1:0.7.0-1+b1 | 2,625.6 kB | 10,875.0 kB | [list of files] |
| sh4 (unofficial port) | 1:0.7.0-1+b1 | 3,004.0 kB | 10,457.0 kB | [list of files] |
| sparc64 (unofficial port) | 1:0.7.0-1+b1 | 2,501.4 kB | 10,795.0 kB | [list of files] |
| x32 (unofficial port) | 1:0.7.0-1+b1 | 2,756.5 kB | 10,113.0 kB | [list of files] |