Package: qelectrotech (1:0.9-2 and others)
Links for qelectrotech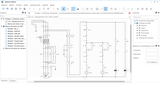 Debian Resources:
Download Source Package qelectrotech:
Maintainers:
External Resources:
Similar packages:
Electric schematic editor
QElectroTech is a Qt5 application written in C++ . This program helps you to design electrical schematic diagrams. It includes a schematic editor, an element editor, and a titleblock editor. It uses XML files to store the produced contents.
Other Packages Related to qelectrotech
Download qelectrotech
Download for all available architectures

| Architecture | Version | Package Size | Installed Size | Files |
| --- | --- | --- | --- | --- |
| alpha (unofficial port) | 1:0.9-2 | 3,307.9 kB | 15,678.0 kB | [list of files] |
| amd64 | 1:0.9-2 | 3,381.2 kB | 13,791.0 kB | [list of files] |
| arm64 | 1:0.9-2 | 3,234.7 kB | 13,806.0 kB | [list of files] |
| armel | 1:0.9-2 | 3,120.6 kB | 13,008.0 kB | [list of files] |
| armhf | 1:0.9-2 | 3,143.5 kB | 11,808.0 kB | [list of files] |
| hppa (unofficial port) | 1:0.9-2 | 3,383.7 kB | 14,714.0 kB | [list of files] |
| i386 | 1:0.9-2 | 3,524.8 kB | 13,980.0 kB | [list of files] |
| ia64 (unofficial port) | 1:0.9-2 | 3,520.6 kB | 20,027.0 kB | [list of files] |
| m68k (unofficial port) | 1:0.9-2 | 3,443.0 kB | 14,200.0 kB | [list of files] |
| mips64el | 1:0.9-2 | 3,220.1 kB | 16,260.0 kB | [list of files] |
| ppc64 (unofficial port) | 1:0.9-2 | 3,329.2 kB | 16,076.0 kB | [list of files] |
| ppc64el | 1:0.9-2 | 3,356.9 kB | 15,467.0 kB | [list of files] |
| riscv64 | 1:0.9-2 | 3,478.6 kB | 13,345.0 kB | [list of files] |
| s390x | 1:0.9-2 | 3,209.3 kB | 14,270.0 kB | [list of files] |
| sh4 (unofficial port) | 1:0.9-2 | 3,672.7 kB | 13,737.0 kB | [list of files] |
| sparc64 (unofficial port) | 1:0.9-2 | 3,044.5 kB | 14,251.0 kB | [list of files] |
| x32 (unofficial port) | 1:0.8.0-3 | 3,044.0 kB | 11,637.0 kB | [list of files] |