Package: qdmr (0.11.2-1 and others)
Links for qdmr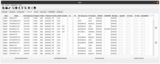 Debian Resources:
Download Source Package qdmr:
Maintainer:
External Resources:
Similar packages:
GUI application to program DMR radios
qdmr is a Qt5 application to program DMR radios. DMR is a digital modulation standard used in amateur and commercial radio. To this end, qdmr is an alternative codeplug programming software (CPS) that supports several radios of several manufacturers. Including AnyTone AT-D868UVE, AT-D878UV, AT-878UVII, AT-D578UV, TyT MD-390, MD-UV380, MD-UV390, MD-2017, Retevis RT8, RT3S, RT82, Radioddity RD5R, GD-77, Baofeng DMR-6X2 and radio running the OpenGD77 firmware.
Other Packages Related to qdmr
Download qdmr
Download for all available architectures

| Architecture | Version | Package Size | Installed Size | Files |
| --- | --- | --- | --- | --- |
| alpha (unofficial port) | 0.11.2-1 | 511.3 kB | 2,251.0 kB | [list of files] |
| amd64 | 0.11.2-1 | 525.1 kB | 1,757.0 kB | [list of files] |
| arm64 | 0.11.2-1 | 495.4 kB | 1,853.0 kB | [list of files] |
| armel | 0.11.2-1 | 465.2 kB | 1,515.0 kB | [list of files] |
| armhf | 0.11.2-1 | 477.3 kB | 1,259.0 kB | [list of files] |
| hppa (unofficial port) | 0.11.2-1 | 518.0 kB | 1,888.0 kB | [list of files] |
| i386 | 0.11.2-1 | 557.6 kB | 1,791.0 kB | [list of files] |
| ia64 (unofficial port) | 0.11.2-1 | 560.0 kB | 3,215.0 kB | [list of files] |
| m68k (unofficial port) | 0.11.2-1 | 532.8 kB | 1,811.0 kB | [list of files] |
| mips64el | 0.11.2-1 | 456.7 kB | 2,143.0 kB | [list of files] |
| mipsel | 0.11.2-1 | 456.4 kB | 2,057.0 kB | [list of files] |
| ppc64 (unofficial port) | 0.11.2-1 | 516.3 kB | 2,365.0 kB | [list of files] |
| ppc64el | 0.11.2-1 | 520.7 kB | 2,237.0 kB | [list of files] |
| riscv64 (unofficial port) | 0.11.2-1 | 503.3 kB | 1,524.0 kB | [list of files] |
| s390x | 0.11.2-1 | 483.4 kB | 1,861.0 kB | [list of files] |
| sh4 (unofficial port) | 0.11.2-1 | 577.6 kB | 1,730.0 kB | [list of files] |
| sparc64 (unofficial port) | 0.11.2-1 | 458.5 kB | 3,178.0 kB | [list of files] |
| x32 (unofficial port) | 0.10.4-1 | 514.3 kB | 1,572.0 kB | [list of files] |