Package: nomacs (3.12.0+dfsg-3 and others)
Links for nomacs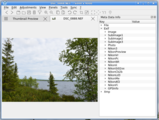 Debian Resources:
Download Source Package nomacs:
Maintainers:
External Resources:
Similar packages:
image viewer with capability of syncing multiple instances
nomacs is a free image viewer for Windows and Linux systems, which is licensed under the GNU General Public License v3. nomacs is small, fast and able to handle the most common image formats. Additionally it is possible to synchronize multiple viewers. A synchronization of viewers running on the same computer or via LAN is possible. It allows one to compare images and spot the differences (e.g. schemes of architects to show the progress).
Other Packages Related to nomacs
dep:

libc6.1 (>= 2.29) [alpha]

GNU C Library: Shared libraries
also a virtual package provided by libc6.1-udeb

dep:

libexiv2-14 (>= 0.25) [sh4, sparc64]

Package not available

dep:

libexiv2-27 (>= 0.27.2) [x32]

EXIF/IPTC/XMP metadata manipulation library

dep:

libexiv2-27 (>= 0.27.3) [not sh4, sparc64, x32]

dep:

libgcc-s1 (>= 3.0) [not armel, armhf, hppa, m68k, sh4, sparc64]

GCC support library

dep:

libgcc-s1 (>= 3.5) [armel, armhf]

dep:

libgcc-s2 (>= 4.2.1) [m68k]

GCC support library

dep:

libgcc-s4 (>= 4.1.1) [hppa]

GCC support library

dep:

libgcc1 (>= 1:3.0) [sparc64]

Package not available

dep:

libgcc1 (>= 1:3.3.4) [sh4]

dep:

libopencv-core2.4v5 [sh4]

computer vision core library

dep:

libopencv-core3.2 [sparc64]

computer vision core library

dep:

libopencv-core4.2 (>= 4.2.0+dfsg) [alpha, x32]

computer vision core library

dep:

libopencv-core4.5 (>= 4.5.0+dfsg) [not alpha, hppa, m68k, sh4, sparc64, x32]

computer vision core library

dep:

libopencv-core4.5 (>= 4.5.1+dfsg) [hppa, m68k]

dep:

libopencv-imgproc2.4v5 [sh4]

computer vision Image Processing library

dep:

libopencv-imgproc3.2 [sparc64]

computer vision Image Processing library

dep:

libopencv-imgproc4.2 (>= 4.2.0+dfsg) [alpha, x32]

computer vision Image Processing library

dep:

libopencv-imgproc4.5 (>= 4.5.0+dfsg) [not alpha, hppa, m68k, sh4, sparc64, x32]

computer vision Image Processing library

dep:

libopencv-imgproc4.5 (>= 4.5.1+dfsg) [hppa, m68k]

dep:

libqt5concurrent5 (>= 5.6.0~rc)

Qt 5 concurrent module

dep:

libqt5core5a (>= 5.14.1) [alpha, x32]

Qt 5 core module

dep:

libqt5core5a (>= 5.15.1) [not alpha, sh4, sparc64, x32]

dep:

libqt5core5a (>= 5.7.0) [sh4, sparc64]

dep:

libqt5gui5 (>= 5.14.1) [not sh4, sparc64]

Qt 5 GUI module

or libqt5gui5-gles (>= 5.14.1)

Qt 5 GUI module — OpenGL ES variant

dep:

libqt5gui5 (>= 5.5.0) [sh4, sparc64]

Qt 5 GUI module

dep:

libqt5network5 (>= 5.0.2)

Qt 5 network module

dep:

libqt5printsupport5 (>= 5.2.0)

Qt 5 print support module

dep:

libqt5svg5 (>= 5.6.0~beta)

Qt 5 SVG module

dep:

libqt5widgets5 (>= 5.14.1) [alpha, x32]

Qt 5 widgets module

dep:

libqt5widgets5 (>= 5.15.1) [not alpha, sh4, sparc64, x32]

dep:

libqt5widgets5 (>= 5.7.0) [sh4, sparc64]

dep:

libquazip1 [sh4, sparc64]

Package not available

dep:

libquazip5-1 (>= 0.7.3) [amd64]

C++ wrapper for ZIP/UNZIP

dep:

libquazip5-1 (>= 0.9) [x32]

dep:

libquazip5-1 (>= 0.9.1) [not amd64, sh4, sparc64, x32]

dep:

libraw16 (>= 0.16.0) [sh4, sparc64]

Package not available

dep:

libraw19 (>= 0.19.0) [x32]

Package not available

dep:

libraw20 (>= 0.19.0) [not sh4, sparc64, x32]

raw image decoder library

dep:

libstdc++6 (>= 5.2)

GNU Standard C++ Library v3

dep:

libtiff5 (>= 4.0.3)

Tag Image File Format (TIFF) library

Qt 5 Image Formats module
rec:

nomacs-l10n (= 3.12.0+dfsg-3) [not sh4, sparc64]

image viewer with capability of syncing multiple instances (data)

rec:

nomacs-l10n (= 3.6.1+dfsg-4) [sh4, sparc64]
Download nomacs
Download for all available architectures

| Architecture | Version | Package Size | Installed Size | Files |
| --- | --- | --- | --- | --- |
| alpha (unofficial port) | 3.12.0+dfsg-3+b1 | 1,113.4 kB | 4,890.0 kB | [list of files] |
| amd64 | 3.12.0+dfsg-3+b2 | 1,130.8 kB | 4,026.0 kB | [list of files] |
| arm64 | 3.12.0+dfsg-3+b2 | 1,025.8 kB | 3,998.0 kB | [list of files] |
| armel | 3.12.0+dfsg-3+b2 | 991.6 kB | 3,376.0 kB | [list of files] |
| armhf | 3.12.0+dfsg-3+b2 | 991.7 kB | 2,808.0 kB | [list of files] |
| hppa (unofficial port) | 3.12.0+dfsg-3 | 1,149.5 kB | 4,480.0 kB | [list of files] |
| i386 | 3.12.0+dfsg-3+b2 | 1,198.2 kB | 3,856.0 kB | [list of files] |
| m68k (unofficial port) | 3.12.0+dfsg-3+b1 | 1,142.7 kB | 4,004.0 kB | [list of files] |
| mips64el | 3.12.0+dfsg-3+b2 | 960.5 kB | 4,659.0 kB | [list of files] |
| mipsel | 3.12.0+dfsg-3+b2 | 978.1 kB | 4,365.0 kB | [list of files] |
| ppc64 (unofficial port) | 3.12.0+dfsg-3+b2 | 1,132.8 kB | 5,358.0 kB | [list of files] |
| ppc64el | 3.12.0+dfsg-3+b2 | 1,115.4 kB | 4,910.0 kB | [list of files] |
| riscv64 (unofficial port) | 3.12.0+dfsg-3+b2 | 1,087.7 kB | 3,691.0 kB | [list of files] |
| s390x | 3.12.0+dfsg-3+b2 | 1,016.0 kB | 4,174.0 kB | [list of files] |
| sh4 (unofficial port) | 3.6.1+dfsg-4 | 1,378.3 kB | 3,946.0 kB | [list of files] |
| sparc64 (unofficial port) | 3.6.1+dfsg-4 | 1,097.7 kB | 4,181.0 kB | [list of files] |
| x32 (unofficial port) | 3.12.0+dfsg-3 | 1,130.6 kB | 3,643.0 kB | [list of files] |