Package: network-manager-openconnect (1.2.8-3 and others)
Links for network-manager-openconnect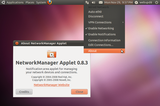 Debian Resources:
Maintainers:
External Resources:
Similar packages:
network management framework (OpenConnect plugin core)
NetworkManager is a system network service that manages your network devices and connections, attempting to keep active network connectivity when available. It manages ethernet, Wi-Fi, mobile broadband (WWAN), and PPPoE devices, and provides VPN integration with a variety of different VPN services.
This package provides a VPN plugin for OpenConnect, an open client for Cisco's AnyConnect SSL VPN, Juniper's Pulse Connect Secure and Palo Alto's GlobalProtect.
Other Packages Related to network-manager-openconnect
Download network-manager-openconnect
Download for all available architectures

| Architecture | Version | Package Size | Installed Size | Files |
| --- | --- | --- | --- | --- |
| alpha (unofficial port) | 1.2.6-1 | 374.9 kB | 2,408.0 kB | [list of files] |
| amd64 | 1.2.8-3 | 473.6 kB | 3,048.0 kB | [list of files] |
| arm64 | 1.2.8-3 | 472.4 kB | 3,036.0 kB | [list of files] |
| armel | 1.2.8-3 | 471.5 kB | 3,021.0 kB | [list of files] |
| armhf | 1.2.8-3 | 473.8 kB | 3,013.0 kB | [list of files] |
| hppa (unofficial port) | 1.2.8-3 | 469.6 kB | 3,026.0 kB | [list of files] |
| i386 | 1.2.8-3 | 474.2 kB | 3,045.0 kB | [list of files] |
| m68k (unofficial port) | 1.2.6-1 | 374.6 kB | 2,404.0 kB | [list of files] |
| mips64el | 1.2.8-3 | 471.9 kB | 3,040.0 kB | [list of files] |
| mipsel | 1.2.8-3 | 471.8 kB | 3,029.0 kB | [list of files] |
| ppc64 (unofficial port) | 1.2.8-3 | 475.4 kB | 3,156.0 kB | [list of files] |
| ppc64el | 1.2.8-3 | 475.9 kB | 3,156.0 kB | [list of files] |
| riscv64 (unofficial port) | 1.2.8-3 | 470.9 kB | 3,025.0 kB | [list of files] |
| s390x | 1.2.8-3 | 471.7 kB | 3,036.0 kB | [list of files] |
| sh4 (unofficial port) | 1.2.8-3 | 471.7 kB | 3,150.0 kB | [list of files] |
| sparc64 (unofficial port) | 1.2.8-3 | 468.4 kB | 6,040.0 kB | [list of files] |
| x32 (unofficial port) | 1.2.6-4 | 375.6 kB | 2,402.0 kB | [list of files] |