Package: mwm (2.3.8-3)
Links for mwm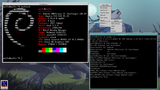 Debian Resources:
Download Source Package motif:
Maintainers:
External Resources:
Similar packages:
Motif Window Manager
Motif is the industry standard GUI component toolkit for *NIX.
This package contains the Motif Window Manager, which has a clear but classical appearance. It is accompanied by xmbind, which is used to configure virtual key/mouse-bindings for Motif.
Other Packages Related to mwm
dep:

x11-common (>= 1:7.0.0)

X Window System (X.Org) infrastructure