Package: milkytracker (1.03.00+dfsg-2 and others)
Links for milkytracker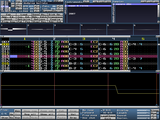 Debian Resources:
Download Source Package milkytracker:
Maintainers:
External Resources:
Similar packages:
music creation tool inspired by Fast Tracker 2
This is an editor for "tracked" music, i.e. audio samples of instruments pitch shifted according to the note data.
It can load the following module formats: 669, AMS, AMF, DBM, CBA, DIGI, DSM, FAR, GMC, GDM, IMF, IT, MOD, MDL, MTM, MXM, OKT, PLM, PSM, PTM, S3M, STM, ULT, UNI, and X.
Export is possible into the formats: XM, MOD, and WAV.
Supported sample and instrument formats: WAV, IFF/XI, PAT
Other Packages Related to milkytracker
sug:

bambootracker

YM2608 (OPNA, sound chip of Yamaha) music tracker

sug:

cheesecutter

SID music editor

sug:

freepats

Free patch set for MIDI audio synthesis

sug:

goattracker

C64 music editor

sug:

hivelytracker

Music tracker for AHX and HVL formats

sug:

modplug-tools

Modplug playing console tools

sug:

opencubicplayer

UNIX port of Open Cubic Player

sug:

protracker

Package not available

sug:

schism

ImpulseTracker clone aiming at providing the same look&feel
Download milkytracker
Download for all available architectures

| Architecture | Version | Package Size | Installed Size | Files |
| --- | --- | --- | --- | --- |
| alpha (unofficial port) | 1.03.00+dfsg-2 | 954.7 kB | 3,434.0 kB | [list of files] |
| amd64 | 1.03.00+dfsg-2+b1 | 913.9 kB | 2,859.0 kB | [list of files] |
| arm64 | 1.03.00+dfsg-2+b1 | 833.3 kB | 2,767.0 kB | [list of files] |
| armel | 1.03.00+dfsg-2+b1 | 778.1 kB | 2,574.0 kB | [list of files] |
| armhf | 1.03.00+dfsg-2+b1 | 796.2 kB | 2,190.0 kB | [list of files] |
| hppa (unofficial port) | 1.03.00+dfsg-2 | 892.6 kB | 2,890.0 kB | [list of files] |
| i386 | 1.03.00+dfsg-2+b1 | 940.3 kB | 2,970.0 kB | [list of files] |
| ia64 (unofficial port) | 1.03.00+dfsg-2 | 1,069.8 kB | 4,844.0 kB | [list of files] |
| m68k (unofficial port) | 1.03.00+dfsg-2 | 859.4 kB | 2,845.0 kB | [list of files] |
| mips64el | 1.03.00+dfsg-2+b1 | 895.9 kB | 3,611.0 kB | [list of files] |
| mipsel | 1.03.00+dfsg-2+b1 | 886.9 kB | 3,323.0 kB | [list of files] |
| ppc64 (unofficial port) | 1.03.00+dfsg-2 | 913.7 kB | 3,470.0 kB | [list of files] |
| ppc64el | 1.03.00+dfsg-2+b1 | 929.9 kB | 3,279.0 kB | [list of files] |
| riscv64 (unofficial port) | 1.03.00+dfsg-2+b1 | 892.2 kB | 2,572.0 kB | [list of files] |
| s390x | 1.03.00+dfsg-2+b1 | 841.6 kB | 2,923.0 kB | [list of files] |
| sh4 (unofficial port) | 1.03.00+dfsg-2 | 979.8 kB | 2,762.0 kB | [list of files] |
| sparc64 (unofficial port) | 1.03.00+dfsg-2 | 788.7 kB | 2,803.0 kB | [list of files] |
| x32 (unofficial port) | 1.03.00+dfsg-2 | 893.9 kB | 2,781.0 kB | [list of files] |