Package: marble (4:21.08.3-1 and others)
Links for marble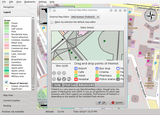 Debian Resources:
Download Source Package marble:
Maintainers:
External Resources:
Similar packages:
globe and map widget
Marble is a generic geographical map widget and framework for KDE applications. The Marble widget shows the earth as a sphere but does not require hardware acceleration. A minimal set of geographical data is included, so it can be used without an internet connection.
This package is part of the KDE education module.
Other Packages Related to marble
dep:

kde-runtime [sh4]

Package not available

dep:

kio [not sh4, sparc64]

resource and network access abstraction

dep:

libc6.1 (>= 2.29) [alpha]

GNU C Library: Shared libraries
also a virtual package provided by libc6.1-udeb

dep:

libgcc-s1 (>= 3.0) [not armel, armhf, hppa, m68k, sh4, sparc64]

GCC support library

dep:

libgcc-s1 (>= 3.5) [armel, armhf]

dep:

libgcc-s2 (>= 4.2.1) [m68k]

GCC support library

dep:

libgcc1 (>= 1:3.0) [sparc64]

Package not available

dep:

libgcc1 (>= 1:4.1.1) [sh4]

dep:

libgcc4 (>= 4.1.1) [hppa]

Package not available

dep:

libkdecore5 (>= 4:4.7) [sh4]

Package not available

dep:

libkdeui5 (>= 4:4.7) [sh4]

Package not available

dep:

libkf5configcore5 (>= 4.98.0) [not sh4]

configuration settings framework for Qt

dep:

libkf5configgui5 (>= 4.97.0) [not sh4]

configuration settings framework for Qt

dep:

libkf5configwidgets5 (>= 4.96.0) [not sh4]

Extra widgets for easier configuration support.

dep:

libkf5coreaddons5 (>= 4.100.0) [hppa, sparc64]

KDE Frameworks 5 addons to QtCore

dep:

libkf5coreaddons5 (>= 5.7.0~) [not hppa, sh4, sparc64]

dep:

libkf5crash5 (>= 4.96.0) [hppa]

Support for application crash analysis and bug report from apps

dep:

libkf5crash5 (>= 5.7.0~) [not hppa, sh4, sparc64]

dep:

libkf5i18n5 (>= 4.97.0) [hppa, sparc64]

Advanced internationalization framework.

dep:

libkf5i18n5 (>= 5.7.0~) [not hppa, sh4, sparc64]

dep:

libkf5kiowidgets5 (>= 4.99.0) [hppa, sparc64]

resource and network access abstraction (KIO widgets library)

dep:

libkf5kiowidgets5 (>= 5.69.0) [not hppa, sh4, sparc64]

dep:

libkf5newstuff5 (>= 4.95.0) [hppa, sparc64]

Support for downloading application assets from the network.

dep:

libkf5newstuff5 (>= 5.7.0~) [not hppa, sh4, sparc64]

dep:

libkf5parts5 (>= 4.96.0) [hppa, sparc64]

Document centric plugin system.

dep:

libkf5parts5 (>= 5.7.0~) [not hppa, sh4, sparc64]

dep:

libkf5runner5 (>= 5.0.0) [sparc64]

Used to write plugins loaded at runtime called "Runners".

dep:

libkf5widgetsaddons5 (>= 4.96.0) [not sh4]

add-on widgets and classes for applications that use the Qt Widgets module

dep:

libkf5xmlgui5 (>= 4.98.0) [not sh4]

User configurable main windows.

dep:

libkio5 (>= 4:4.7) [sh4]

Package not available

dep:

libknewstuff3-4 (>= 4:4.7) [sh4]

Package not available

dep:

libkparts4 (>= 4:4.7) [sh4]

Package not available

dep:

libmarblewidget-qt5-25 (= 4:16.08.2-1) [sparc64]

Marble globe widget library

dep:

libmarblewidget-qt5-28 (= 4:19.08.1-2+b1) [hppa]

Marble globe widget library

dep:

libmarblewidget-qt5-28 (= 4:21.08.3-1) [not hppa, sh4, sparc64]

dep:

libmarblewidget12 (= 4:4.7.4-2) [sh4]

Marble globe widget library

dep:

libplasma3 (>= 4:4.7) [sh4]

Package not available

dep:

libqt4-network (>= 4:4.5.3) [sh4]

Package not available

dep:

libqt5core5a (>= 5.14.1) [not amd64, hppa, i386, sh4, sparc64, x32]

Qt 5 core module

dep:

libqt5core5a (>= 5.15.1) [amd64, i386, x32]

dep:

libqt5core5a (>= 5.6.0~beta) [sparc64]

dep:

libqt5core5a (>= 5.7.0~) [hppa]

dep:

libqt5dbus5 (>= 5.4) [sparc64]

Qt 5 D-Bus module

dep:

libqt5dbus5 (>= 5.7.0~) [not sh4, sparc64]

dep:

libqt5gui5 (>= 5.4) [sparc64]

Qt 5 GUI module

dep:

libqt5gui5 (>= 5.7.0) [hppa]

dep:

libqt5gui5 (>= 5.7.0) [not hppa, sh4, sparc64]

Qt 5 GUI module

or libqt5gui5-gles (>= 5.7.0)

Qt 5 GUI module — OpenGL ES variant

dep:

libqt5network5 (>= 5.4) [sparc64]

Qt 5 network module

dep:

libqt5network5 (>= 5.7.0~) [not sh4, sparc64]

dep:

libqt5printsupport5 (>= 5.4) [sparc64]

Qt 5 print support module

dep:

libqt5printsupport5 (>= 5.7.0~) [not sh4, sparc64]

dep:

libqt5widgets5 (>= 5.4) [sparc64]

Qt 5 widgets module

dep:

libqt5widgets5 (>= 5.7.0~) [not sh4, sparc64]

dep:

libqt5xml5 (>= 5.4) [sparc64]

Qt 5 XML module

dep:

libqt5xml5 (>= 5.7.0~) [not sh4, sparc64]

dep:

libqtcore4 (>= 4:4.7.4-2) [sh4]

Package not available

dep:

libqtgui4 (>= 4:4.5.3) [sh4]

Package not available

dep:

libstdc++6 (>= 4.1.1)

GNU Standard C++ Library v3

dep:

marble-data (>= 4:16.08.2-1) [sparc64]

data files for Marble

dep:

marble-data (>= 4:19.08.1-2) [hppa]

dep:

marble-data (>= 4:21.08.3-1) [not hppa, sh4, sparc64]

dep:

marble-data (>= 4:4.7.4-2) [sh4]

dep:

marble-plugins (= 4:16.08.2-1) [sparc64]

plugins for Marble

dep:

marble-plugins (= 4:19.08.1-2+b1) [hppa]

dep:

marble-plugins (= 4:21.08.3-1) [not hppa, sh4, sparc64]

dep:

marble-plugins (= 4:4.7.4-2) [sh4]
sug:

gosmore

Package not available

sug:

monav-routing-daemon

Package not available

sug:

routino

Set of tools to find a path between two points
Download marble
Download for all available architectures

| Architecture | Version | Package Size | Installed Size | Files |
| --- | --- | --- | --- | --- |
| alpha (unofficial port) | 4:21.08.3-1 | 208.6 kB | 1,278.0 kB | [list of files] |
| amd64 | 4:21.08.3-1 | 202.8 kB | 1,077.0 kB | [list of files] |
| arm64 | 4:21.08.3-1 | 184.5 kB | 1,042.0 kB | [list of files] |
| armel | 4:21.08.3-1 | 175.4 kB | 941.0 kB | [list of files] |
| armhf | 4:21.08.3-1 | 178.6 kB | 825.0 kB | [list of files] |
| hppa (unofficial port) | 4:19.08.1-2+b1 | 200.3 kB | 1,185.0 kB | [list of files] |
| i386 | 4:21.08.3-1 | 212.8 kB | 1,040.0 kB | [list of files] |
| m68k (unofficial port) | 4:21.08.3-1 | 217.2 kB | 1,133.0 kB | [list of files] |
| mips64el | 4:21.08.3-1 | 185.2 kB | 1,181.0 kB | [list of files] |
| mipsel | 4:21.08.3-1 | 186.3 kB | 1,153.0 kB | [list of files] |
| ppc64 (unofficial port) | 4:21.08.3-1 | 197.9 kB | 1,318.0 kB | [list of files] |
| ppc64el | 4:21.08.3-1 | 195.5 kB | 1,292.0 kB | [list of files] |
| riscv64 (unofficial port) | 4:21.08.3-1 | 189.6 kB | 956.0 kB | [list of files] |
| s390x | 4:21.08.3-1 | 185.2 kB | 1,096.0 kB | [list of files] |
| sh4 (unofficial port) | 4:4.7.4-2 | 682.1 kB | 1,221.0 kB | [list of files] |
| sparc64 (unofficial port) | 4:16.08.2-1 | 165.3 kB | 1,088.0 kB | [list of files] |
| x32 (unofficial port) | 4:21.08.3-1 | 204.8 kB | 1,011.0 kB | [list of files] |