Package: ksnakeduel (4:21.08.0-1 and others)
Links for ksnakeduel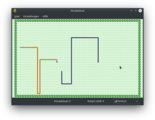 Debian Resources:
Download Source Package ksnakeduel:
Maintainers:
External Resources:
Similar packages:
snake race game
The object of the game is to avoid running into walls, your own tail, and that of your opponent, while at the same time you have to try to get your opponent to run into them.
It also includes kdesnake, a special mode of the game where you can play the classical snake action game. In snake you steer a snake which has to eat food. While eating, the snake grows. But once a player collides with the other snake or the wall, the game is lost. This becomes, of course, more and more difficult the longer the snakes grow.
This package is part of the KDE games module.
Other Packages Related to ksnakeduel
dep:

libc6.1 (>= 2.1.3) [alpha]

GNU C Library: Shared libraries
also a virtual package provided by libc6.1-udeb

dep:

libc6.1 (>= 2.27) [ia64]

dep:

libgcc-s1 (>= 3.5) [armel, armhf]

GCC support library

dep:

libgcc-s2 (>= 4.2.1) [m68k]

GCC support library

dep:

libgcc-s4 (>= 4.1.1) [hppa]

GCC support library

dep:

libgcc1 (>= 1:4.2) [ia64]

Package not available

dep:

libkf5auth5 (>= 4.96.0) [hppa, m68k]

Abstraction to system policy and authentication features

dep:

libkf5authcore5 (>= 5.61.0) [hppa, m68k]

Abstraction to system policy and authentication features

dep:

libkf5codecs5 (>= 4.96.0) [hppa, m68k]

collection of methods to manipulate strings

dep:

libkf5completion5 (>= 4.97.0) [ia64, sparc64]

Widgets with advanced auto-completion features.

dep:

libkf5completion5 (>= 5.83.0~) [not ia64, sparc64]

dep:

libkf5configcore5 (>= 4.98.0) [ia64, sparc64]

configuration settings framework for Qt

dep:

libkf5configcore5 (>= 5.83.0~) [not ia64, sparc64]

dep:

libkf5configgui5 (>= 4.97.0) [ia64, sparc64]

configuration settings framework for Qt

dep:

libkf5configgui5 (>= 5.83.0~) [not ia64, sparc64]

dep:

libkf5configwidgets5 (>= 4.96.0) [ia64, sparc64]

Extra widgets for easier configuration support.

dep:

libkf5configwidgets5 (>= 5.83.0~) [not ia64, sparc64]

dep:

libkf5coreaddons5 (>= 5.6.0+git20150124.0026+15.04) [ia64, sparc64]

KDE Frameworks 5 addons to QtCore

dep:

libkf5coreaddons5 (>= 5.83.0~) [not ia64, sparc64]

dep:

libkf5crash5 (>= 5.15.0) [ia64, sparc64]

Support for application crash analysis and bug report from apps

dep:

libkf5crash5 (>= 5.83.0~) [not ia64, sparc64]

dep:

libkf5dbusaddons5 (>= 4.97.0) [ia64, sparc64]

class library for qtdbus

dep:

libkf5dbusaddons5 (>= 5.83.0~) [not ia64, sparc64]

dep:

libkf5guiaddons5 (>= 4.96.0) [ia64, sparc64]

additional addons for QtGui

dep:

libkf5guiaddons5 (>= 5.83.0~) [not ia64, sparc64]

dep:

libkf5i18n5 (>= 4.97.0) [ia64, sparc64]

Advanced internationalization framework.

dep:

libkf5i18n5 (>= 5.83.0~) [not ia64, sparc64]

dep:

libkf5kdegames7 (>= 4:14.12.50) [ia64, sparc64]

shared library for KDE games

dep:

libkf5kdegames7 (>= 4:21.04.0) [not ia64, sparc64]

dep:

libkf5kdegamesprivate1 (>= 4:14.12.50) [ia64, sparc64]

private part of shared library for KDE games

dep:

libkf5kdegamesprivate7 (>= 4:21.04.0~) [not ia64, sparc64]

private part of shared library for KDE games

dep:

libkf5widgetsaddons5 (>= 4.96.0) [ia64, sparc64]

add-on widgets and classes for applications that use the Qt Widgets module

dep:

libkf5widgetsaddons5 (>= 5.83.0~) [not ia64, sparc64]

dep:

libkf5xmlgui5 (>= 4.98.0) [ia64, sparc64]

User configurable main windows.

dep:

libkf5xmlgui5 (>= 5.83.0~) [not ia64, sparc64]

dep:

libqt5core5a (>= 5.15.0~) [not amd64, i386, ia64, sparc64, x32]

Qt 5 core module

dep:

libqt5core5a (>= 5.15.1) [amd64, i386, x32]

dep:

libqt5core5a (>= 5.4.0) [ia64, sparc64]

dep:

libqt5dbus5 (>= 5.15.0~) [hppa, m68k]

Qt 5 D-Bus module

dep:

libqt5gui5 (>= 5.15.0~) [not ia64, sparc64]

Qt 5 GUI module

or libqt5gui5-gles (>= 5.15.0~)

Qt 5 GUI module — OpenGL ES variant

dep:

libqt5gui5 (>= 5.7.0) [ia64, sparc64]

Qt 5 GUI module

dep:

libqt5network5 (>= 5.15.0~) [hppa, m68k]

Qt 5 network module

dep:

libqt5qml5 (>= 5.0.2) [hppa, m68k]

Qt 5 QML module

dep:

libqt5qmlmodels5 (>= 5.14.1) [hppa, m68k]

Qt 5 QML Models library

dep:

libqt5quick5 (>= 5.0.2) [hppa, m68k]

Qt 5 Quick library

or libqt5quick5-gles (>= 5.0.2)

Qt 5 Quick library — OpenGL ES variant

dep:

libqt5quickwidgets5 (>= 5.3.0) [hppa, m68k]

Qt 5 Quick Widgets library

dep:

libqt5svg5 (>= 5.15.0~) [not ia64, sparc64]

Qt 5 SVG module

dep:

libqt5svg5 (>= 5.6.0~beta) [ia64, sparc64]

dep:

libqt5widgets5 (>= 5.15.0~) [not ia64, sparc64]

Qt 5 widgets module

dep:

libqt5widgets5 (>= 5.3.0~) [ia64, sparc64]

dep:

libqt5xml5 (>= 5.15.0~) [hppa, m68k]

Qt 5 XML module

dep:

libstdc++6 (>= 4.1.1)

GNU Standard C++ Library v3
Download ksnakeduel
Download for all available architectures

| Architecture | Version | Package Size | Installed Size | Files |
| --- | --- | --- | --- | --- |
| alpha (unofficial port) | 4:21.08.0-1 | 609.3 kB | 1,773.0 kB | [list of files] |
| amd64 | 4:21.08.0-1 | 608.4 kB | 1,748.0 kB | [list of files] |
| arm64 | 4:21.08.0-1 | 606.0 kB | 1,749.0 kB | [list of files] |
| armel | 4:21.08.0-1 | 605.4 kB | 1,739.0 kB | [list of files] |
| armhf | 4:21.08.0-1 | 605.9 kB | 1,715.0 kB | [list of files] |
| hppa (unofficial port) | 4:21.08.0-1 | 609.9 kB | 1,761.0 kB | [list of files] |
| i386 | 4:21.08.0-1 | 612.1 kB | 1,755.0 kB | [list of files] |
| ia64 (unofficial port) | 4:17.08.3-1+b1 | 239.3 kB | 1,338.0 kB | [list of files] |
| m68k (unofficial port) | 4:21.08.0-1 | 606.7 kB | 1,732.0 kB | [list of files] |
| mips64el | 4:21.08.0-1 | 605.5 kB | 1,758.0 kB | [list of files] |
| mipsel | 4:21.08.0-1 | 605.5 kB | 1,751.0 kB | [list of files] |
| ppc64 (unofficial port) | 4:21.08.0-1 | 611.0 kB | 1,816.0 kB | [list of files] |
| ppc64el | 4:21.08.0-1 | 610.9 kB | 1,812.0 kB | [list of files] |
| riscv64 (unofficial port) | 4:21.08.0-1 | 603.4 kB | 1,716.0 kB | [list of files] |
| s390x | 4:21.08.0-1 | 605.7 kB | 1,756.0 kB | [list of files] |
| sh4 (unofficial port) | 4:21.08.0-1 | 618.2 kB | 1,739.0 kB | [list of files] |
| sparc64 (unofficial port) | 4:18.04.1-1 | 224.7 kB | 1,196.0 kB | [list of files] |
| x32 (unofficial port) | 4:21.08.0-1 | 608.7 kB | 1,732.0 kB | [list of files] |