Package: konsole (4:21.08.2-1 and others)
Links for konsole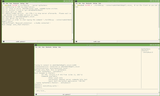 Debian Resources:
Download Source Package konsole:
Maintainers:
External Resources:
Similar packages:
X terminal emulator
Konsole is a terminal emulator built on the KDE Platform. It can contain multiple terminal sessions inside one window using detachable tabs.
Konsole supports powerful terminal features, such as customizable schemes, saved sessions, and output monitoring.
Other Packages Related to konsole
sug:

lrzsz

Tools for zmodem/xmodem/ymodem file transfer
Download konsole
Download for all available architectures

| Architecture | Version | Package Size | Installed Size | Files |
| --- | --- | --- | --- | --- |
| alpha (unofficial port) | 4:21.08.2-1 | 881.0 kB | 4,644.0 kB | [list of files] |
| amd64 | 4:21.08.2-1 | 880.7 kB | 4,561.0 kB | [list of files] |
| arm64 | 4:21.08.2-1 | 878.6 kB | 4,576.0 kB | [list of files] |
| armel | 4:21.08.2-1 | 868.8 kB | 4,482.0 kB | [list of files] |
| armhf | 4:21.08.2-1 | 870.4 kB | 4,410.0 kB | [list of files] |
| hppa (unofficial port) | 4:21.08.2-1 | 889.4 kB | 4,610.0 kB | [list of files] |
| i386 | 4:21.08.2-1 | 891.0 kB | 4,566.0 kB | [list of files] |
| ia64 (unofficial port) | 4:21.08.2-1 | 905.8 kB | 5,001.0 kB | [list of files] |
| m68k (unofficial port) | 4:21.08.2-1 | 879.4 kB | 4,538.0 kB | [list of files] |
| mips64el | 4:21.08.2-1 | 869.9 kB | 4,597.0 kB | [list of files] |
| mipsel | 4:21.08.2-1 | 869.6 kB | 4,556.0 kB | [list of files] |
| ppc64 (unofficial port) | 4:21.08.2-1 | 886.4 kB | 4,805.0 kB | [list of files] |
| ppc64el | 4:21.08.2-1 | 885.0 kB | 4,741.0 kB | [list of files] |
| riscv64 (unofficial port) | 4:21.08.2-1 | 870.1 kB | 4,463.0 kB | [list of files] |
| s390x | 4:21.08.2-1 | 872.9 kB | 4,580.0 kB | [list of files] |
| sh4 (unofficial port) | 4:21.08.2-1 | 891.6 kB | 4,474.0 kB | [list of files] |
| sparc64 (unofficial port) | 4:19.08.1-2 | 726.8 kB | 3,800.0 kB | [list of files] |
| x32 (unofficial port) | 4:21.08.2-1 | 881.9 kB | 4,502.0 kB | [list of files] |