Package: plasma-discover (5.23.5-1 and others)
Links for plasma-discover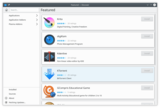 Debian Resources:
Maintainers:
External Resources:
Similar packages:
Discover software management suite
Discover is a graphical software manager for the Plasma workspace. It helps users easily and quickly find applications and other software they might want to install.
By allowing to navigate a software library by search, categories, top lists along with detailed application information that includes screenshots and reviews, users can more quickly find applications that suit their needs.
Discover will also keep the system up to date by notifying about updates and installing them.
Other Packages Related to plasma-discover
dep:

appstream (>= 0.8)

Software component metadata management

dep:

apt-config-icons [not alpha, m68k, sparc64]

APT configuration snippet to enable icon downloads

dep:

kio [not sparc64]

resource and network access abstraction

dep:

libappstreamqt1 [sparc64]

Package not available

dep:

libappstreamqt2 [alpha, m68k]

Qt5 library to access AppStream services

dep:

libappstreamqt2 (>= 0.15.1) [not alpha, m68k, sparc64]

dep:

libc6 (>= 2.27) [riscv64]

GNU C Library: Shared libraries
also a virtual package provided by libc6-udeb

dep:

libc6 (>= 2.29) [not alpha, m68k, riscv64, sparc64]

dep:

libc6 (>= 2.4) [m68k, sparc64]

dep:

libc6.1 (>= 2.1.3) [alpha]

GNU C Library: Shared libraries
also a virtual package provided by libc6.1-udeb

dep:

libgcc-s1 (>= 3.4) [riscv64]

GCC support library

dep:

libgcc-s1 (>= 3.5) [armel, armhf]

dep:

libgcc-s1 (>= 4.2) [i386, mipsel]

dep:

libgcc-s4 (>= 4.1.1) [hppa]

GCC support library

dep:

libgcc2 (>= 4.2.1) [m68k]

Package not available

dep:

libkf5archive5 (>= 4.96.0) [sparc64]

Qt 5 addon providing access to numerous types of archives

dep:

libkf5attica5 (>= 5.23.0) [alpha, m68k, sparc64]

Qt library that implements the Open Collaboration Services API

dep:

libkf5attica5 (>= 5.78~) [not alpha, m68k, sparc64]

dep:

libkf5configcore5 (>= 4.98.0) [sparc64]

configuration settings framework for Qt

dep:

libkf5configcore5 (>= 5.24.0) [alpha, m68k]

dep:

libkf5configcore5 (>= 5.86~) [not alpha, m68k, sparc64]

dep:

libkf5configgui5 (>= 4.97.0) [alpha, m68k, sparc64]

configuration settings framework for Qt

dep:

libkf5configgui5 (>= 5.86~) [not alpha, m68k, sparc64]

dep:

libkf5configwidgets5 (>= 4.96.0) [sparc64]

Extra widgets for easier configuration support.

dep:

libkf5configwidgets5 (>= 5.23.0) [alpha, m68k]

dep:

libkf5coreaddons5 (>= 4.100.0) [alpha, m68k, sparc64]

KDE Frameworks 5 addons to QtCore

dep:

libkf5coreaddons5 (>= 5.86~) [not alpha, m68k, sparc64]

dep:

libkf5crash5 (>= 5.15.0) [alpha, m68k, sparc64]

Support for application crash analysis and bug report from apps

dep:

libkf5crash5 (>= 5.86~) [not alpha, m68k, sparc64]

dep:

libkf5dbusaddons5 (>= 4.99.0) [alpha, m68k, sparc64]

class library for qtdbus

dep:

libkf5dbusaddons5 (>= 5.86~) [not alpha, m68k, sparc64]

dep:

libkf5declarative5 (>= 4.96.0) [alpha, m68k, sparc64]

provides integration of QML and KDE frameworks

dep:

libkf5i18n5 (>= 4.97.0) [alpha, m68k, sparc64]

Advanced internationalization framework.

dep:

libkf5i18n5 (>= 5.86~) [not alpha, m68k, sparc64]

dep:

libkf5idletime5 (>= 5.86~) [not alpha, m68k, sparc64]

library to provide information about idle time

dep:

libkf5itemmodels5 (>= 5.14.0) [alpha, m68k]

additional item/view models for Qt Itemview

dep:

libkf5itemmodels5 (>= 5.86~) [not alpha, m68k, sparc64]

dep:

libkf5kiocore5 (>= 4.96.0) [alpha, m68k, sparc64]

resource and network access abstraction (KIO core library)

dep:

libkf5kiocore5 (>= 5.86~) [not alpha, m68k, sparc64]

dep:

libkf5kiogui5 (>= 5.86~) [not alpha, m68k, sparc64]

resource and network access abstraction (KIO gui library)

dep:

libkf5kiowidgets5 (>= 4.96.0) [alpha, m68k, sparc64]

resource and network access abstraction (KIO widgets library)

dep:

libkf5newstuff5 (>= 5.23.0) [sparc64]

Support for downloading application assets from the network.

dep:

libkf5newstuffcore5 [alpha, m68k]

Support for downloading application assets from the network.

dep:

libkf5newstuffcore5 (>= 5.83.0) [not alpha, m68k, sparc64]

dep:

libkf5notifications5 (>= 5.3.0+git20141030.0311) [alpha, m68k, sparc64]

Framework for desktop notifications

dep:

libkf5notifications5 (>= 5.85.0) [not alpha, m68k, sparc64]

dep:

libkf5quickaddons5 (>= 5.86~) [not alpha, m68k, sparc64]

provides integration of QML and KDE frameworks -- quickaddons

dep:

libkf5service-bin

Advanced plugin and service introspection

dep:

libkf5service5 (>= 4.96.0)

Advanced plugin and service introspection

dep:

libkf5widgetsaddons5 (>= 4.96.0)

add-on widgets and classes for applications that use the Qt Widgets module

dep:

libkf5windowsystem5 (>= 5.83.0) [not alpha, m68k, sparc64]

Convenience access to certain properties and features of the window manager

dep:

libkf5xmlgui5 (>= 4.96.0) [alpha, m68k, sparc64]

User configurable main windows.

dep:

libmarkdown2 (>= 2.0.6) [not alpha, m68k, sparc64]

implementation of the Markdown markup language in C (library)

dep:

libpackagekitqt5-0 [alpha, m68k, sparc64]

Package not available

dep:

libpackagekitqt5-1 (>= 1.0.2) [not alpha, m68k, sparc64]

Library for accessing PackageKit using Qt5

dep:

libqt5core5a (>= 5.15.1) [not alpha, m68k, sparc64]

Qt 5 core module

dep:

libqt5core5a (>= 5.5.0) [sparc64]

dep:

libqt5core5a (>= 5.7.0) [alpha, m68k]

dep:

libqt5dbus5 (>= 5.15.0~) [not alpha, m68k, sparc64]

Qt 5 D-Bus module

dep:

libqt5dbus5 (>= 5.4.0~) [sparc64]

dep:

libqt5dbus5 (>= 5.7.0~) [alpha, m68k]

dep:

libqt5gui5 (>= 5.15.0~) [not alpha, m68k, sparc64]

Qt 5 GUI module

or libqt5gui5-gles (>= 5.15.0~)

Qt 5 GUI module — OpenGL ES variant

dep:

libqt5gui5 (>= 5.6.0~beta) [sparc64]

Qt 5 GUI module

dep:

libqt5gui5 (>= 5.7.0) [alpha, m68k]

dep:

libqt5network5 (>= 5.15.0~) [not alpha, m68k, sparc64]

Qt 5 network module

dep:

libqt5network5 (>= 5.7.0~) [alpha, m68k]

dep:

libqt5qml5 (>= 5.1.0) [alpha, m68k, sparc64]

Qt 5 QML module

dep:

libqt5qml5 (>= 5.15.0~) [not alpha, m68k, sparc64]

dep:

libqt5quick5 (>= 5.0.2) [alpha, m68k, sparc64]

Qt 5 Quick library

dep:

libqt5quick5 (>= 5.15.0~) [not alpha, m68k, sparc64]

Qt 5 Quick library

or libqt5quick5-gles (>= 5.15.0~)

Qt 5 Quick library — OpenGL ES variant

dep:

libqt5widgets5 (>= 5.15.0~) [not alpha, m68k, sparc64]

Qt 5 widgets module

dep:

libqt5widgets5 (>= 5.4.0~) [sparc64]

dep:

libqt5widgets5 (>= 5.7.0~) [alpha, m68k]

dep:

libqt5x11extras5 (>= 5.15.0~) [not alpha, m68k, sparc64]

Qt 5 X11 extras

dep:

libqt5xml5 (>= 5.15.0~) [not alpha, m68k, sparc64]

Qt 5 XML module

dep:

libqt5xml5 (>= 5.4.0~) [sparc64]

dep:

libqt5xml5 (>= 5.7.0~) [alpha, m68k]

dep:

libstdc++6 (>= 4.5) [alpha, m68k, sparc64]

GNU Standard C++ Library v3

dep:

libstdc++6 (>= 5) [not alpha, m68k, sparc64]

dep:

packagekit (>= 1.0)

Provides a package management service

dep:

plasma-discover-common (= 5.10.5-2) [alpha, m68k]

Discover software manager suite (common data files)

dep:

plasma-discover-common (= 5.23.5-1) [not alpha, m68k, sparc64]

dep:

plasma-discover-common (= 5.7.4-1) [sparc64]

dep:

qml-module-org-kde-kcoreaddons [not alpha, m68k, sparc64]

provides integration of QML and KDE frameworks - kcoreaddons

dep:

qml-module-org-kde-kirigami2 [alpha, m68k]

set of QtQuick components targeted for mobile use

dep:

qml-module-org-kde-kirigami2 (>= 5.42) [not alpha, m68k, sparc64]

dep:

qml-module-org-kde-kquickcontrols [not alpha, m68k, sparc64]

provides integration of QML and KDE frameworks - kquickcontrols

dep:

qml-module-org-kde-kquickcontrolsaddons [not alpha, m68k, sparc64]

provides integration of QML and KDE Frameworks - kquickcontrolsaddons

dep:

qml-module-org-kde-qqc2desktopstyle [not alpha, m68k, sparc64]

Qt Quick Controls 2: Desktop Style

dep:

qml-module-qtquick-dialogs [not alpha, m68k, sparc64]

Qt 5 Dialogs QML module
Discover software management suite - Flatpak backend

Discover software management suite - fwupd backend
Download plasma-discover
Download for all available architectures

| Architecture | Version | Package Size | Installed Size | Files |
| --- | --- | --- | --- | --- |
| alpha (unofficial port) | 5.10.5-2 | 2,164.7 kB | 3,541.0 kB | [list of files] |
| amd64 | 5.23.5-1 | 409.2 kB | 1,732.0 kB | [list of files] |
| arm64 | 5.23.5-1 | 397.2 kB | 1,752.0 kB | [list of files] |
| armel | 5.23.5-1 | 358.9 kB | 1,487.0 kB | [list of files] |
| armhf | 5.23.5-1 | 366.7 kB | 1,215.0 kB | [list of files] |
| hppa (unofficial port) | 5.23.5-1 | 415.6 kB | 1,869.0 kB | [list of files] |
| i386 | 5.23.5-1 | 449.2 kB | 1,787.0 kB | [list of files] |
| m68k (unofficial port) | 5.10.5-2 | 2,129.8 kB | 3,132.0 kB | [list of files] |
| mips64el | 5.23.5-1 | 364.3 kB | 1,870.0 kB | [list of files] |
| mipsel | 5.23.5-1 | 364.2 kB | 1,747.0 kB | [list of files] |
| ppc64 (unofficial port) | 5.23.5-1 | 439.5 kB | 2,804.0 kB | [list of files] |
| ppc64el | 5.23.5-1 | 435.6 kB | 2,484.0 kB | [list of files] |
| riscv64 (unofficial port) | 5.23.5-1 | 366.6 kB | 1,347.0 kB | [list of files] |
| s390x | 5.23.5-1 | 381.0 kB | 1,820.0 kB | [list of files] |
| sparc64 (unofficial port) | 5.7.4-1 | 211.1 kB | 1,196.0 kB | [list of files] |
| x32 (unofficial port) | 5.23.5-1 | 411.1 kB | 1,579.0 kB | [list of files] |