Package: i3-wm (4.19.1-1)
Links for i3-wm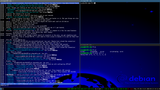 Debian Resources:
Download Source Package i3-wm:
Maintainers:
External Resources:
Similar packages:
improved dynamic tiling window manager
Key features of i3 are good documentation, reasonable defaults (changeable in a simple configuration file) and good multi-monitor support. The user interface is designed for power users and emphasizes keyboard usage. i3 uses XCB for asynchronous communication with X11 and aims to be fast and light-weight.
Please be aware i3 is primarily targeted at advanced users and developers.
Other Packages Related to i3-wm
Download i3-wm
Download for all available architectures

| Architecture | Package Size | Installed Size | Files |
| --- | --- | --- | --- |
| alpha (unofficial port) | 953.7 kB | 2,515.0 kB | [list of files] |
| amd64 | 954.9 kB | 2,390.0 kB | [list of files] |
| arm64 | 933.8 kB | 2,379.0 kB | [list of files] |
| armel | 924.2 kB | 2,281.0 kB | [list of files] |
| armhf | 928.8 kB | 2,109.0 kB | [list of files] |
| hppa (unofficial port) | 926.1 kB | 2,272.0 kB | [list of files] |
| i386 | 968.7 kB | 2,438.0 kB | [list of files] |
| m68k (unofficial port) | 936.2 kB | 2,323.0 kB | [list of files] |
| mips64el | 933.2 kB | 2,465.0 kB | [list of files] |
| mipsel | 938.8 kB | 2,419.0 kB | [list of files] |
| ppc64 (unofficial port) | 958.6 kB | 2,876.0 kB | [list of files] |
| ppc64el | 976.1 kB | 2,940.0 kB | [list of files] |
| riscv64 (unofficial port) | 924.7 kB | 2,208.0 kB | [list of files] |
| s390x | 929.5 kB | 2,395.0 kB | [list of files] |
| sh4 (unofficial port) | 985.0 kB | 2,297.0 kB | [list of files] |
| sparc64 (unofficial port) | 908.7 kB | 2,388.0 kB | [list of files] |
| x32 (unofficial port) | 956.0 kB | 2,310.0 kB | [list of files] |