Package: gnome-software (45.1-1 and others)
Links for gnome-software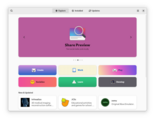 Debian Resources:
Maintainers:
External Resources:
Similar packages:
Software Center for GNOME
Software lets you install and update applications and system extensions.
Software uses a plugin architecture to separate the frontend from the technologies that are used underneath. Currently, a PackageKit plugin provides data from a number of traditional packaging systems, such as rpm or apt. An appdata plugin provides additional metadata from locally installed data in the appdata format.
Other Packages Related to gnome-software
rec:

fwupd

Firmware update daemon
APT configuration snippet to enable HiDPI icon downloads

sug:

gnome-software-plugin-flatpak [not alpha, ia64, m68k, sh4, sparc64]

Flatpak support for GNOME Software

Snap support for GNOME Software
Download gnome-software
Download for all available architectures

| Architecture | Version | Package Size | Installed Size | Files |
| --- | --- | --- | --- | --- |
| alpha (unofficial port) | 43.5-1 | 608.9 kB | 3,840.0 kB | [list of files] |
| amd64 | 45.1-1 | 624.1 kB | 3,032.0 kB | [list of files] |
| arm64 | 45.1-1 | 583.5 kB | 3,645.0 kB | [list of files] |
| armel | 45.1-1 | 540.0 kB | 2,526.0 kB | [list of files] |
| armhf | 45.1-1 | 547.7 kB | 2,178.0 kB | [list of files] |
| hppa (unofficial port) | 45.1-1 | 598.3 kB | 2,978.0 kB | [list of files] |
| i386 | 45.1-1 | 653.9 kB | 3,054.0 kB | [list of files] |
| ia64 (unofficial port) | 45.1-1 | 690.5 kB | 4,638.0 kB | [list of files] |
| m68k (unofficial port) | 45.1-1 | 599.5 kB | 2,672.0 kB | [list of files] |
| mips64el | 45.1-1 | 510.5 kB | 3,589.0 kB | [list of files] |
| ppc64 (unofficial port) | 45.1-1 | 642.4 kB | 4,277.0 kB | [list of files] |
| ppc64el | 45.1-1 | 642.1 kB | 3,965.0 kB | [list of files] |
| riscv64 | 45.1-1 | 609.5 kB | 2,785.0 kB | [list of files] |
| s390x | 45.1-1 | 599.4 kB | 3,101.0 kB | [list of files] |
| sh4 (unofficial port) | 45~beta-1 | 629.2 kB | 3,036.0 kB | [list of files] |
| sparc64 (unofficial port) | 43.5-1 | 509.9 kB | 19,933.0 kB | [list of files] |
| x32 (unofficial port) | 45.1-1 | 626.6 kB | 2,722.0 kB | [list of files] |