Package: gnome-boxes (43.2-1)
Links for gnome-boxes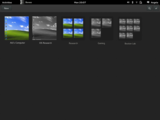 Debian Resources:
Download Source Package gnome-boxes:
Maintainers:
External Resources:
Similar packages:
Simple GNOME app to access virtual systems
GNOME Boxes is a desktop client to view or use local virtual machines. Boxes is intentionally simple and easy to use.
Hardware virtualization is required.
Previously, GNOME Boxes could also be used to connect to remote computers, but that feature is now provided by the GNOME Connections app.
Other Packages Related to gnome-boxes
Download gnome-boxes
Download for all available architectures

| Architecture | Package Size | Installed Size | Files |
| --- | --- | --- | --- |
| amd64 | 906.3 kB | 6,762.0 kB | [list of files] |
| arm64 | 872.0 kB | 6,854.0 kB | [list of files] |
| armel | 846.3 kB | 6,532.0 kB | [list of files] |
| armhf | 855.5 kB | 6,304.0 kB | [list of files] |
| hppa (unofficial port) | 868.2 kB | 6,709.0 kB | [list of files] |
| i386 | 938.2 kB | 6,952.0 kB | [list of files] |
| mips64el | 818.8 kB | 6,961.0 kB | [list of files] |
| mipsel | 827.3 kB | 6,949.0 kB | [list of files] |
| ppc64 (unofficial port) | 913.2 kB | 7,430.0 kB | [list of files] |
| ppc64el | 918.4 kB | 7,238.0 kB | [list of files] |
| riscv64 (unofficial port) | 846.9 kB | 6,399.0 kB | [list of files] |
| s390x | 866.8 kB | 6,798.0 kB | [list of files] |
| sparc64 (unofficial port) | 831.7 kB | 9,464.0 kB | [list of files] |
| x32 (unofficial port) | 911.7 kB | 6,680.0 kB | [list of files] |