Package: ghostwriter (23.04.3+ds-1 and others)
Links for ghostwriter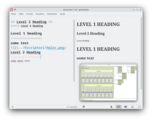 Debian Resources:
Download Source Package ghostwriter:
Maintainers:
External Resources:
Similar packages:
Distraction-free, themeable Markdown editor
ghostwriter is a Markdown editor that provides a themable, distraction-free writing environment, along with a live HTML preview as you type, easy document navigation with an outline HUD, and export to popular document formats with Sundown, Pandoc, MultiMarkdown, Discount, cmark, or cmark-gfm processors. It also features a live word count and auto-save. Eliminate distractions in fullscreen mode, or concentrate on the current text you are writing in focus mode. It even remembers your last opened file and position within the file, so you can pick up where you last left off.
Other Packages Related to ghostwriter
dep:

libatomic1 (>= 4.8) [m68k, sh4]

support library providing __atomic built-in functions

dep:

libc6.1 (>= 2.4) [alpha]

GNU C Library: Shared libraries
also a virtual package provided by libc6.1-udeb

dep:

libcmark-gfm-extensions0.29.0.gfm.6 (>= 0.29.0.gfm.6) [amd64, arm64, armhf, i386, mips64el]

CommonMark GitHub flavor gfm extension library

dep:

libcmark-gfm0.29.0.gfm.6 (>= 0.29.0.gfm.6) [amd64, arm64, armhf, i386, mips64el]

CommonMark GitHub flavor gfm library

dep:

libgcc-s1 (>= 3.5) [armhf]

GCC support library

dep:

libgcc1 (>= 1:3.0) [ppc64, x32]

Package not available

dep:

libgcc1 (>= 1:3.4) [alpha, riscv64, sh4, sparc64]

dep:

libgcc2 (>= 4.2.1) [m68k]

Package not available

dep:

libgcc4 (>= 4.1.1) [hppa]

Package not available

dep:

libgl1 [not amd64, arm64, armhf, i386, mips64el]

Vendor neutral GL dispatch library -- legacy GL support

dep:

libhunspell-1.7-0 [not amd64, arm64, armhf, i386, mips64el]

spell checker and morphological analyzer (shared library)

dep:

libkf5configwidgets5 (>= 5.90.0~) [amd64, arm64, armhf, i386, mips64el]

Extra widgets for easier configuration support.

dep:

libkf5coreaddons5 (>= 5.90.0~) [amd64, arm64, armhf, i386, mips64el]

KDE Frameworks 5 addons to QtCore

dep:

libkf5sonnetcore5 (>= 5.90.0~) [amd64, arm64, armhf, i386, mips64el]

spell checking library for Qt, core lib

dep:

libkf5sonnetui5 (>= 5.90.0~) [amd64, arm64, armhf, i386, mips64el]

spell checking library for Qt, ui lib

dep:

libkf5widgetsaddons5 (>= 5.90.0~) [amd64, arm64, armhf, i386, mips64el]

add-on widgets and classes for applications that use the Qt Widgets module

dep:

libkf5xmlgui5 (>= 5.90.0~) [amd64, arm64, armhf, i386, mips64el]

User configurable main windows.

dep:

libqt5concurrent5 (>= 5.0.2) [not amd64, arm64, armhf, i386, mips64el]

Qt 5 concurrent module

dep:

libqt5core5a (>= 5.11.0~rc1) [x32]

Qt 5 core module

dep:

libqt5core5a (>= 5.15.2~) [amd64, arm64, armhf, i386, mips64el]

dep:

libqt5core5a (>= 5.7.0) [not amd64, arm64, armhf, i386, mips64el, x32]

dep:

libqt5gui5 (>= 5.15.2~) [amd64, arm64, armhf, i386, mips64el]

Qt 5 GUI module

or libqt5gui5-gles (>= 5.15.2~)

Qt 5 GUI module — OpenGL ES variant

dep:

libqt5gui5 (>= 5.8.0) [not amd64, arm64, armhf, i386, mips64el]

Qt 5 GUI module

dep:

libqt5network5 (>= 5.0.2) [not amd64, arm64, armhf, i386, mips64el]

Qt 5 network module

dep:

libqt5printsupport5 (>= 5.2.0) [not amd64, arm64, armhf, i386, mips64el]

Qt 5 print support module

dep:

libqt5svg5 [amd64, arm64, armhf, i386, mips64el]

Qt 5 SVG module

dep:

libqt5webchannel5 (>= 5.15.2~) [amd64, arm64, armhf, i386, mips64el]

Web communication library for Qt

dep:

libqt5webenginewidgets5 (>= 5.15.2~) [amd64, arm64, armhf, i386, mips64el]

Web content engine library for Qt - Widget

dep:

libqt5webkit5 (>= 5.6.0~rc) [not amd64, arm64, armhf, i386, mips64el]

Web content engine library for Qt

dep:

libqt5widgets5 (>= 5.11.0~rc1) [not amd64, arm64, armhf, i386, mips64el]

Qt 5 widgets module

dep:

libqt5widgets5 (>= 5.15.2~) [amd64, arm64, armhf, i386, mips64el]

dep:

libstdc++6 [riscv64]

GNU Standard C++ Library v3

dep:

libstdc++6 (>= 5) [amd64, arm64, armhf, i386, mips64el]

dep:

libstdc++6 (>= 5.2) [not amd64, arm64, armhf, i386, mips64el, riscv64]
Download ghostwriter
Download for all available architectures

| Architecture | Version | Package Size | Installed Size | Files |
| --- | --- | --- | --- | --- |
| alpha (unofficial port) | 1.7.4-2 | 394.4 kB | 1,702.0 kB | [list of files] |
| amd64 | 23.04.3+ds-1 | 2,338.2 kB | 11,714.0 kB | [list of files] |
| arm64 | 23.04.3+ds-1 | 2,324.8 kB | 11,754.0 kB | [list of files] |
| armhf | 23.04.3+ds-1 | 2,307.5 kB | 11,433.0 kB | [list of files] |
| hppa (unofficial port) | 1.7.4-2 | 395.4 kB | 1,530.0 kB | [list of files] |
| i386 | 23.04.3+ds-1 | 2,363.9 kB | 11,777.0 kB | [list of files] |
| m68k (unofficial port) | 1.7.4-2 | 407.6 kB | 1,492.0 kB | [list of files] |
| mips64el | 23.04.3+ds-1 | 2,307.8 kB | 11,874.0 kB | [list of files] |
| ppc64 (unofficial port) | 1.7.4-2 | 397.4 kB | 1,765.0 kB | [list of files] |
| riscv64 (unofficial port) | 1.7.4-2 | 384.4 kB | 1,339.0 kB | [list of files] |
| sh4 (unofficial port) | 1.7.4-2 | 440.0 kB | 1,413.0 kB | [list of files] |
| sparc64 (unofficial port) | 1.7.3-1 | 344.7 kB | 1,480.0 kB | [list of files] |
| x32 (unofficial port) | 1.7.4-2 | 396.8 kB | 1,368.0 kB | [list of files] |