Package: xracer (0.96.9.1-11 and others)
Links for xracer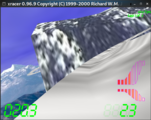 Debian Resources:
Download Source Package xracer:
Maintainer:
Similar packages:
Futuristic racing game
Xracer is a Wipeout clone, distributed under the GPL. It should be able to use any OpenGL 1.1 compliant library. A 3D accelerator card is required.
This is the game data and binary.
If you want to build new tracks or other game data, you may also want to install the xracer-tools package.
Other Packages Related to xracer
Download xracer
Download for all available architectures

| Architecture | Version | Package Size | Installed Size | Files |
| --- | --- | --- | --- | --- |
| alpha (unofficial port) | 0.96.9.1-11+b1 | 837.0 kB | 1,695.0 kB | [list of files] |
| amd64 | 0.96.9.1-11+b1 | 834.6 kB | 1,536.0 kB | [list of files] |
| arm64 | 0.96.9.1-11+b1 | 830.3 kB | 1,637.0 kB | [list of files] |
| armel | 0.96.9.1-11+b1 | 810.3 kB | 1,455.0 kB | [list of files] |
| armhf | 0.96.9.1-11+b1 | 803.4 kB | 1,391.0 kB | [list of files] |
| hppa (unofficial port) | 0.96.9.1-11+b1 | 826.3 kB | 1,414.0 kB | [list of files] |
| i386 | 0.96.9.1-11+b1 | 815.0 kB | 1,393.0 kB | [list of files] |
| ia64 (unofficial port) | 0.96.9.1-11+b1 | 863.0 kB | 1,742.0 kB | [list of files] |
| m68k (unofficial port) | 0.96.9.1-11+b1 | 811.8 kB | 1,351.0 kB | [list of files] |
| mips64el | 0.96.9.1-11+b1 | 803.9 kB | 1,582.0 kB | [list of files] |
| mipsel | 0.96.9.1-11+b1 | 806.3 kB | 1,531.0 kB | [list of files] |
| ppc64 (unofficial port) | 0.96.9.1-11+b1 | 833.8 kB | 1,701.0 kB | [list of files] |
| ppc64el | 0.96.9.1-11+b1 | 850.0 kB | 1,701.0 kB | [list of files] |
| riscv64 (unofficial port) | 0.96.9.1-11+b1 | 808.6 kB | 1,440.0 kB | [list of files] |
| s390x | 0.96.9.1-11+b1 | 832.6 kB | 1,573.0 kB | [list of files] |
| sh4 (unofficial port) | 0.96.9.1-11+b1 | 832.8 kB | 1,454.0 kB | [list of files] |
| sparc64 (unofficial port) | 0.96.9.1-11+b1 | 811.1 kB | 4,198.0 kB | [list of files] |
| x32 (unofficial port) | 0.96.9.1-11+b1 | 829.4 kB | 1,456.0 kB | [list of files] |