Package: vonsh (1.0 and others)
Links for vonsh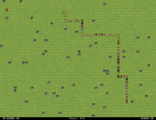 Debian Resources:
Download Source Package vonsh:
Maintainer:
External Resources:
Similar packages:
Snake-like game with line of people running around to get more food
Player has to pick up foodstuffs appearing randomly on the board, and avoid colliding with obstacles and the line itself. With each picked up food item, line grows in length, new obstacles appear, and difficulty explodes ;). Game is based on libSDL.
Other Packages Related to vonsh
Download vonsh
Download for all available architectures

| Architecture | Version | Package Size | Installed Size | Files |
| --- | --- | --- | --- | --- |
| amd64 | 1.0+b1 | 2,100.8 kB | 2,352.0 kB | [list of files] |
| arm64 | 1.0 | 2,100.4 kB | 2,347.0 kB | [list of files] |
| armel | 1.0 | 2,100.9 kB | 2,346.0 kB | [list of files] |
| armhf | 1.0 | 2,102.7 kB | 2,342.0 kB | [list of files] |
| hppa (unofficial port) | 1.0 | 2,102.8 kB | 2,359.0 kB | [list of files] |
| i386 | 1.0 | 2,101.4 kB | 2,350.0 kB | [list of files] |
| m68k (unofficial port) | 1.0 | 2,099.4 kB | 2,350.0 kB | [list of files] |
| mips64el | 1.0 | 2,101.7 kB | 2,353.0 kB | [list of files] |
| mipsel | 1.0 | 2,101.5 kB | 2,352.0 kB | [list of files] |
| ppc64 (unofficial port) | 1.0 | 2,104.1 kB | 2,391.0 kB | [list of files] |
| ppc64el | 1.0 | 2,101.4 kB | 2,391.0 kB | [list of files] |
| riscv64 (unofficial port) | 1.0 | 2,099.4 kB | 2,343.0 kB | [list of files] |
| s390x | 1.0 | 2,100.2 kB | 2,351.0 kB | [list of files] |
| sh4 (unofficial port) | 1.0 | 2,101.6 kB | 2,346.0 kB | [list of files] |
| sparc64 (unofficial port) | 1.0 | 2,100.7 kB | 2,353.0 kB | [list of files] |
| x32 (unofficial port) | 1.0 | 2,101.9 kB | 2,346.0 kB | [list of files] |