Package: pianobooster (1.0.0-2 and others)
Links for pianobooster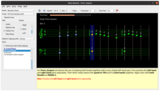 Debian Resources:
Download Source Package pianobooster:
Maintainers:
External Resources:
Similar packages:
Learn the piano just by playing a game
A MIDI file player/game that displays the musical notes AND teaches you how to play the piano.
PianoBooster is a fun way of playing along with a musical accompaniment and at the same time learning the basics of reading musical notation. The difference between playing along to a CD or a standard MIDI file is that PianoBooster listens and reacts to what you are playing on a MIDI keyboard.
To run Piano Booster you need a MIDI Piano Keyboard and a MIDI interface for the PC. If you don't have a MIDI keyboard you can still try out PianoBooster, using the PC keyboard ('x' is middle C), but a MIDI piano is really recommended.
Other Packages Related to pianobooster
Download pianobooster
Download for all available architectures

| Architecture | Version | Package Size | Installed Size | Files |
| --- | --- | --- | --- | --- |
| alpha (unofficial port) | 1.0.0-2+b2 | 1,177.4 kB | 2,609.0 kB | [list of files] |
| amd64 | 1.0.0-2+b3 | 1,176.1 kB | 2,436.0 kB | [list of files] |
| arm64 | 1.0.0-2+b3 | 1,159.6 kB | 2,452.0 kB | [list of files] |
| armel | 1.0.0-2+b3 | 1,147.6 kB | 2,387.0 kB | [list of files] |
| armhf | 1.0.0-2+b3 | 1,149.5 kB | 2,259.0 kB | [list of files] |
| hppa (unofficial port) | 1.0.0-2+b2 | 1,184.5 kB | 2,504.0 kB | [list of files] |
| i386 | 1.0.0-2+b3 | 1,185.9 kB | 2,435.0 kB | [list of files] |
| ia64 (unofficial port) | 1.0.0-2+b2 | 1,208.0 kB | 3,028.0 kB | [list of files] |
| m68k (unofficial port) | 1.0.0-2+b2 | 1,183.2 kB | 2,507.0 kB | [list of files] |
| mips64el | 1.0.0-2+b3 | 1,156.6 kB | 2,611.0 kB | [list of files] |
| mipsel | 1.0.0-2+b3 | 1,156.5 kB | 2,538.0 kB | [list of files] |
| ppc64 (unofficial port) | 1.0.0-2+b2 | 1,176.2 kB | 2,644.0 kB | [list of files] |
| ppc64el | 1.0.0-2+b3 | 1,176.1 kB | 2,644.0 kB | [list of files] |
| riscv64 (unofficial port) | 1.0.0-2+b2 | 1,171.5 kB | 2,353.0 kB | [list of files] |
| s390x | 1.0.0-2+b3 | 1,152.8 kB | 2,452.0 kB | [list of files] |
| sh4 (unofficial port) | 1.0.0-2+b2 | 1,207.2 kB | 2,417.0 kB | [list of files] |
| sparc64 (unofficial port) | 1.0.0-2+b2 | 1,147.6 kB | 2,485.0 kB | [list of files] |
| x32 (unofficial port) | 1.0.0-2+b2 | 1,178.1 kB | 2,395.0 kB | [list of files] |