Package: opentyrian (2.1.20220318-1) [contrib]
Links for opentyrian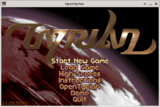 Debian Resources:
Download Source Package opentyrian:
Maintainers:
External Resources:
Similar packages:
open-source port of the DOS shoot-em-up Tyrian
Tyrian is an arcade-style vertical scrolling shooter. The story is set in 20,031 where you play as Trent Hawkins, a skilled fighter-pilot employed to fight Microsol and save the galaxy.
This package needs game data from the original Tyrian game, which is available as a freeware. It can be installed using game-data-packager.
Other Packages Related to opentyrian
sug:

zenity

Display graphical dialog boxes from shell scripts

or kdialog

Dialog display utility

or x11-utils

X11 utilities
sends desktop notifications to a notification daemon (Utilities)