Package: ksirk (4:22.08.2-1 and others)
Links for ksirk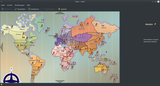 Debian Resources:
Download Source Package ksirk:
Maintainers:
External Resources:
Similar packages:
Risk strategy game
KsirK is a strategy game inspired by the well known game Risk. It is a multi-player network-enabled game with an AI. The goal of the game is simply to conquer the World. It is done by attacking your neighbours with your armies. At the beginning of the game, countries are distributed to all the players. Each country contains one army represented by an infantryman. Each player has some armies to distribute to his countries. On each turn, each player can attack his neighbours, eventually conquering one or more countries. At the end of each turn, some bonus armies are distributed to the players in function of the number of countries they own. The winner is the player that conquered all the world.
This package is part of the KDE games module.
Other Packages Related to ksirk
dep:

libc6 (>= 2.34) [not alpha, ia64, sh4, sparc64]

GNU C Library: Shared libraries
also a virtual package provided by libc6-udeb

dep:

libc6 (>= 2.35) [sh4]

dep:

libc6 (>= 2.4) [sparc64]

dep:

libc6.1 (>= 2.27) [ia64]

GNU C Library: Shared libraries
also a virtual package provided by libc6.1-udeb

dep:

libc6.1 (>= 2.4) [alpha]

dep:

libgcc-s1 (>= 3.0) [amd64, arm64, i386, mips64el, mipsel, ppc64, ppc64el, s390x, x32]

GCC support library

dep:

libgcc-s1 (>= 3.4) [alpha, sh4]

dep:

libgcc-s1 (>= 3.5) [armel, armhf]

dep:

libgcc-s1 (>= 4.3) [riscv64]

dep:

libgcc-s2 (>= 4.2.1) [m68k]

GCC support library

dep:

libgcc-s4 (>= 4.1.1) [hppa]

GCC support library

dep:

libgcc1 (>= 1:3.4) [sparc64]

Package not available

dep:

libgcc1 (>= 1:4.2) [ia64]

dep:

libkf5completion5 (>= 4.97.0) [ia64, sparc64]

Widgets with advanced auto-completion features.

dep:

libkf5completion5 (>= 5.68.0~) [alpha]

dep:

libkf5completion5 (>= 5.90.0~) [not alpha, ia64, sparc64]

dep:

libkf5configcore5 (>= 4.98.0) [ia64, sparc64]

configuration settings framework for Qt

dep:

libkf5configcore5 (>= 5.68.0~) [alpha]

dep:

libkf5configcore5 (>= 5.90.0~) [not alpha, ia64, sparc64]

dep:

libkf5configgui5 (>= 4.97.0) [ia64, sparc64]

configuration settings framework for Qt

dep:

libkf5configgui5 (>= 5.68.0~) [alpha]

dep:

libkf5configgui5 (>= 5.90.0~) [not alpha, ia64, sparc64]

dep:

libkf5configwidgets5 (>= 4.96.0) [ia64, sparc64]

Extra widgets for easier configuration support.

dep:

libkf5configwidgets5 (>= 5.68.0~) [alpha]

dep:

libkf5configwidgets5 (>= 5.90.0~) [not alpha, ia64, sparc64]

dep:

libkf5coreaddons5 (>= 4.100.0) [ia64, sparc64]

KDE Frameworks 5 addons to QtCore

dep:

libkf5coreaddons5 (>= 5.68.0~) [alpha]

dep:

libkf5coreaddons5 (>= 5.90.0~) [not alpha, ia64, sparc64]

dep:

libkf5crash5 (>= 5.15.0) [ia64, sparc64]

Support for application crash analysis and bug report from apps

dep:

libkf5crash5 (>= 5.68.0~) [alpha]

dep:

libkf5crash5 (>= 5.90.0~) [not alpha, ia64, sparc64]

dep:

libkf5i18n5 (>= 4.97.0) [ia64, sparc64]

Advanced internationalization framework.

dep:

libkf5i18n5 (>= 5.68.0~) [alpha]

dep:

libkf5i18n5 (>= 5.90.0~) [not alpha, ia64, sparc64]

dep:

libkf5kdegames7 (>= 4:14.12.50) [ia64, sparc64]

shared library for KDE games

dep:

libkf5kdegames7 (>= 4:21.08.0~) [not ia64, sparc64]

dep:

libkf5kdegamesprivate1 (>= 4:14.12.50) [ia64, sparc64]

private part of shared library for KDE games

dep:

libkf5kdegamesprivate7 (>= 4:21.08.0~) [not ia64, sparc64]

private part of shared library for KDE games

dep:

libkf5newstuff5 (>= 5.27.0) [ia64, sparc64]

Support for downloading application assets from the network.

dep:

libkf5newstuff5 (>= 5.68.0~) [alpha]

dep:

libkf5newstuff5 (>= 5.90.0~) [not alpha, ia64, sparc64]

dep:

libkf5wallet-bin

Secure and unified container for user passwords.

dep:

libkf5wallet5 (>= 4.96.0) [ia64, sparc64]

Secure and unified container for user passwords.

dep:

libkf5wallet5 (>= 5.68.0~) [alpha]

dep:

libkf5wallet5 (>= 5.90.0~) [not alpha, ia64, sparc64]

dep:

libkf5widgetsaddons5 (>= 4.96.0) [ia64, sparc64]

add-on widgets and classes for applications that use the Qt Widgets module

dep:

libkf5widgetsaddons5 (>= 5.68.0~) [alpha]

dep:

libkf5widgetsaddons5 (>= 5.90.0~) [not alpha, ia64, sparc64]

dep:

libkf5xmlgui5 (>= 4.98.0) [ia64, sparc64]

User configurable main windows.

dep:

libkf5xmlgui5 (>= 5.68.0~) [alpha]

dep:

libkf5xmlgui5 (>= 5.90.0~) [not alpha, ia64, sparc64]

dep:

libphonon4qt5-4 (>= 4:4.8.0)

multimedia framework from KDE using Qt 5 - core library

dep:

libqca-qt5-2 (>= 2.1.0~)

libraries for the Qt Cryptographic Architecture

dep:

libqt5core5a (>= 5.11.1) [sparc64]

Qt 5 core module

dep:

libqt5core5a (>= 5.15.1) [not ia64, sparc64]

dep:

libqt5core5a (>= 5.9.2) [ia64]

dep:

libqt5gui5 (>= 5.12.0~) [alpha]

Qt 5 GUI module

or libqt5gui5-gles (>= 5.12.0~)

Qt 5 GUI module — OpenGL ES variant

dep:

libqt5gui5 (>= 5.15.0~) [not alpha, ia64, sparc64]

or libqt5gui5-gles (>= 5.15.0~)

dep:

libqt5gui5 (>= 5.7.0) [ia64, sparc64]

Qt 5 GUI module

dep:

libqt5network5 (>= 5.12.0~) [alpha]

Qt 5 network module

dep:

libqt5network5 (>= 5.15.0~) [not alpha, ia64, sparc64]

dep:

libqt5network5 (>= 5.8.0) [ia64, sparc64]

dep:

libqt5svg5 (>= 5.12.0~) [alpha]

Qt 5 SVG module

dep:

libqt5svg5 (>= 5.15.0~) [not alpha, ia64, sparc64]

dep:

libqt5svg5 (>= 5.6.0~beta) [ia64, sparc64]

dep:

libqt5widgets5 (>= 5.12.0~) [alpha]

Qt 5 widgets module

dep:

libqt5widgets5 (>= 5.15.0~) [not alpha, ia64, sparc64]

dep:

libqt5widgets5 (>= 5.2.0) [ia64, sparc64]

dep:

libqt5xml5 (>= 5.12.0~) [alpha]

Qt 5 XML module

dep:

libqt5xml5 (>= 5.15.0~) [not alpha, ia64, sparc64]

dep:

libqt5xml5 (>= 5.2.0~) [ia64, sparc64]

dep:

libstdc++6 (>= 5) [alpha, ia64, sparc64]

GNU Standard C++ Library v3

dep:

libstdc++6 (>= 5.2) [not alpha, ia64, sparc64]

dep:

libunwind8 [ia64]

library to determine the call-chain of a program - runtime

dep:

phonon4qt5

multimedia framework from KDE using Qt 5 - metapackage

dep:

zlib1g (>= 1:1.1.4)

compression library - runtime
Download ksirk
Download for all available architectures

| Architecture | Version | Package Size | Installed Size | Files |
| --- | --- | --- | --- | --- |
| alpha (unofficial port) | 4:21.08.0-1 | 4,928.5 kB | 13,465.0 kB | [list of files] |
| amd64 | 4:22.08.2-1 | 5,049.9 kB | 12,831.0 kB | [list of files] |
| arm64 | 4:22.08.2-1 | 4,943.9 kB | 12,916.0 kB | [list of files] |
| armel | 4:22.08.2-1 | 4,863.3 kB | 12,390.0 kB | [list of files] |
| armhf | 4:22.08.2-1 | 4,889.8 kB | 11,750.0 kB | [list of files] |
| hppa (unofficial port) | 4:22.08.2-1 | 5,051.8 kB | 13,475.0 kB | [list of files] |
| i386 | 4:22.08.2-1 | 5,133.3 kB | 12,938.0 kB | [list of files] |
| ia64 (unofficial port) | 4:17.12.2-1+b1 | 5,033.2 kB | 15,919.0 kB | [list of files] |
| m68k (unofficial port) | 4:22.08.2-1 | 5,048.6 kB | 12,859.0 kB | [list of files] |
| mips64el | 4:22.08.2-1 | 4,904.2 kB | 13,980.0 kB | [list of files] |
| mipsel | 4:22.08.2-1 | 4,910.9 kB | 13,738.0 kB | [list of files] |
| ppc64 (unofficial port) | 4:22.08.2-1 | 5,020.9 kB | 14,293.0 kB | [list of files] |
| ppc64el | 4:22.08.2-1 | 5,029.5 kB | 13,806.0 kB | [list of files] |
| riscv64 (unofficial port) | 4:22.08.2-1 | 4,976.1 kB | 12,220.0 kB | [list of files] |
| s390x | 4:22.08.2-1 | 4,922.9 kB | 13,038.0 kB | [list of files] |
| sh4 (unofficial port) | 4:22.08.2-1 | 5,207.4 kB | 12,840.0 kB | [list of files] |
| sparc64 (unofficial port) | 4:18.04.1-1 | 4,779.6 kB | 12,689.0 kB | [list of files] |
| x32 (unofficial port) | 4:22.08.2-1 | 5,051.2 kB | 12,562.0 kB | [list of files] |