Package: komi (1.04-5 and others)
Links for komi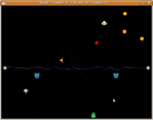 Debian Resources:
Download Source Package komi:
Maintainer:
External Resources:
Similar packages:
Single player arcade game with Komi the Space Frog!
Komi is a space frog, and your aim in this single player arcade game is to feed him by capturing food with your giant tongue.
Avoid hitting the energy barriers and other nasties as you try to eat all the food.
Other Packages Related to komi
Download komi
Download for all available architectures

| Architecture | Version | Package Size | Installed Size | Files |
| --- | --- | --- | --- | --- |
| alpha (unofficial port) | 1.04-5 | 927.9 kB | 1,699.0 kB | [list of files] |
| amd64 | 1.04-5+b2 | 855.6 kB | 1,701.0 kB | [list of files] |
| arm64 | 1.04-5+b2 | 850.6 kB | 1,701.0 kB | [list of files] |
| armel | 1.04-5+b2 | 857.0 kB | 1,709.0 kB | [list of files] |
| armhf | 1.04-5+b2 | 853.5 kB | 1,685.0 kB | [list of files] |
| hppa (unofficial port) | 1.04-5 | 853.5 kB | 1,642.0 kB | [list of files] |
| i386 | 1.04-5+b2 | 855.8 kB | 1,712.0 kB | [list of files] |
| ia64 (unofficial port) | 1.04-5 | 866.4 kB | 1,783.0 kB | [list of files] |
| m68k (unofficial port) | 1.04-5 | 846.8 kB | 1,626.0 kB | [list of files] |
| mips64el | 1.04-5+b2 | 854.9 kB | 1,717.0 kB | [list of files] |
| mipsel | 1.04-5+b2 | 855.2 kB | 1,712.0 kB | [list of files] |
| ppc64 (unofficial port) | 1.04-5+b1 | 855.8 kB | 1,718.0 kB | [list of files] |
| ppc64el | 1.04-5+b2 | 851.7 kB | 1,761.0 kB | [list of files] |
| riscv64 (unofficial port) | 1.04-5 | 852.1 kB | 1,689.0 kB | [list of files] |
| s390x | 1.04-5+b2 | 856.1 kB | 1,722.0 kB | [list of files] |
| sh4 (unofficial port) | 1.04-5 | 926.0 kB | 1,674.0 kB | [list of files] |
| sparc64 (unofficial port) | 1.04-5 | 922.6 kB | 1,633.0 kB | [list of files] |
| x32 (unofficial port) | 1.04-5 | 926.6 kB | 1,682.0 kB | [list of files] |