Package: foxtrotgps (1.2.2-2 and others)
Links for foxtrotgps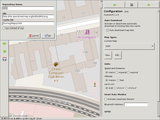 Debian Resources:
Download Source Package foxtrotgps:
Maintainer:
External Resources:
Similar packages:
GTK+ mapping and GPS application
foxtrotGPS is a map and GPS application. By default, it uses maps from OpenStreetMap. The available features include downloading and displaying tiled maps, recording GPS tracks, automatic map centering, storing points of interest, geocoding photos, setting waypoints, monitoring heartrate via Bluetooth, planning travel routes and finding travel routes using external services on the Internet based on OpenStreetMap.
Other Packages Related to foxtrotgps
rec:

gpsd

Global Positioning System - daemon
sug:

gpsbabel

GPS file conversion plus transfer to/from GPS units

sug:

python3

interactive high-level object-oriented language (default python3 version)

sug:

python3-beautifulsoup [powerpcspe]

Package not available

sug:

python3-bs4 [not powerpcspe]

error-tolerant HTML parser for Python 3

or python3-beautifulsoup

Package not available

sug:

python3-feedparser

Universal Feed Parser for Python 3

sug:

python3-sqlalchemy

SQL toolkit and Object Relational Mapper for Python 3
Download foxtrotgps
Download for all available architectures

| Architecture | Version | Package Size | Installed Size | Files |
| --- | --- | --- | --- | --- |
| alpha (unofficial port) | 1.2.2-2+b1 | 946.0 kB | 1,739.0 kB | [list of files] |
| amd64 | 1.2.2-2 | 943.8 kB | 1,695.0 kB | [list of files] |
| arm64 | 1.2.2-2 | 939.5 kB | 1,699.0 kB | [list of files] |
| armel | 1.2.2-2 | 938.7 kB | 1,674.0 kB | [list of files] |
| armhf | 1.2.2-2 | 936.3 kB | 1,634.0 kB | [list of files] |
| hppa (unofficial port) | 1.2.2-2 | 938.9 kB | 1,686.0 kB | [list of files] |
| i386 | 1.2.2-2 | 950.0 kB | 1,718.0 kB | [list of files] |
| m68k (unofficial port) | 1.2.2-2 | 938.3 kB | 1,694.0 kB | [list of files] |
| mips64el | 1.2.2-2 | 934.1 kB | 1,708.0 kB | [list of files] |
| mipsel | 1.2.2-2 | 935.7 kB | 1,704.0 kB | [list of files] |
| powerpcspe (unofficial port) | 1.2.1-1 | 935.6 kB | 1,694.0 kB | [list of files] |
| ppc64 (unofficial port) | 1.2.2-2 | 948.8 kB | 1,823.0 kB | [list of files] |
| ppc64el | 1.2.2-2 | 946.9 kB | 1,759.0 kB | [list of files] |
| riscv64 (unofficial port) | 1.2.2-2 | 935.3 kB | 1,654.0 kB | [list of files] |
| s390x | 1.2.2-2 | 937.0 kB | 1,703.0 kB | [list of files] |
| sh4 (unofficial port) | 1.2.2-2 | 951.7 kB | 1,676.0 kB | [list of files] |
| sparc64 (unofficial port) | 1.2.2-2 | 935.3 kB | 1,699.0 kB | [list of files] |
| x32 (unofficial port) | 1.2.2-2 | 943.7 kB | 1,678.0 kB | [list of files] |