Package: fluxbox (1.3.5-2 and others)
Links for fluxbox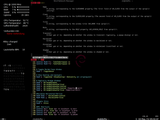 Debian Resources:
Download Source Package fluxbox:
Maintainers:
External Resources:
Similar packages:
Highly configurable and low resource X11 Window manager
Fairly similar to blackbox, from which it is derived, but has been extended with features such as pwm-style window tabs, configurable key bindings, toolbar, and an iconbar. It also includes some cosmetic fixes over blackbox.
This package contains support for GNOME and KDE.
Other Packages Related to fluxbox
dep:

libc6.1 (>= 2.15) [alpha]

GNU C Library: Shared libraries
also a virtual package provided by libc6.1-udeb

dep:

libfontconfig1 (>= 2.11) [not riscv64]

generic font configuration library - runtime

dep:

libfontconfig1 (>= 2.12) [riscv64]

dep:

libfreetype6 (>= 2.2.1)

FreeType 2 font engine, shared library files

dep:

libfribidi0 (>= 0.19.2) [not sh4]

Free Implementation of the Unicode BiDi algorithm

dep:

libgcc1 (>= 1:3.0) [amd64, arm64, mips64el, ppc64, ppc64el]

Package not available

dep:

libgcc1 (>= 1:3.4) [riscv64, s390x]

dep:

libgcc1 (>= 1:3.5) [armel, armhf]

dep:

libgcc1 (>= 1:4.1.1) [alpha, sh4, sparc64, x32]

dep:

libgcc1 (>= 1:4.2) [i386, mipsel]

dep:

libgcc2 (>= 4.2.1) [m68k]

Package not available

dep:

libgcc4 (>= 4.1.1) [hppa]

Package not available

dep:

libice6 (>= 1:1.0.0)

X11 Inter-Client Exchange library

dep:

libimlib2 (>= 1.4.5)

image loading, rendering, saving library

dep:

libsm6

X11 Session Management library

dep:

libstdc++6 [riscv64]

GNU Standard C++ Library v3

dep:

libstdc++6 (>= 5.2) [not riscv64]

dep:

libx11-6

X11 client-side library

dep:

libxext6

X11 miscellaneous extension library

dep:

libxft2 (>> 2.1.1)

FreeType-based font drawing library for X

dep:

libxinerama1

X11 Xinerama extension library

dep:

libxpm4

X11 pixmap library

dep:

libxrandr2

X11 RandR extension library

dep:

libxrender1

X Rendering Extension client library

dep:

menu (>= 2.1.19)

generates programs menu for all menu-aware applications
rec:

feh

imlib2 based image viewer

or eterm

Enlightened Terminal Emulator

or hsetroot

tool for composing root-pixmaps for X11

or xloadimage

Graphics file viewer under X11

rec:

xfonts-terminus

Terminus - fast reading fixed-width PCF fonts for X servers
sug:

fbautostart

XDG compliant autostarting app for Fluxbox

sug:

fbdesk

Package not available

sug:

fbpager

a pager application for the Fluxbox window manager
Download fluxbox
Download for all available architectures

| Architecture | Version | Package Size | Installed Size | Files |
| --- | --- | --- | --- | --- |
| alpha (unofficial port) | 1.3.5-2+b1 | 1,160.7 kB | 4,254.0 kB | [list of files] |
| amd64 | 1.3.5-2+b2 | 1,151.5 kB | 3,860.0 kB | [list of files] |
| arm64 | 1.3.5-2+b2 | 1,104.8 kB | 3,808.0 kB | [list of files] |
| armel | 1.3.5-2+b2 | 1,054.1 kB | 3,512.0 kB | [list of files] |
| armhf | 1.3.5-2+b2 | 1,071.5 kB | 3,100.0 kB | [list of files] |
| hppa (unofficial port) | 1.3.5-2+b1 | 1,176.3 kB | 4,020.0 kB | [list of files] |
| i386 | 1.3.5-2+b2 | 1,204.4 kB | 3,922.0 kB | [list of files] |
| m68k (unofficial port) | 1.3.5-2+b1 | 1,026.1 kB | 3,541.0 kB | [list of files] |
| mips64el | 1.3.5-2+b2 | 1,151.2 kB | 4,619.0 kB | [list of files] |
| mipsel | 1.3.5-2+b2 | 1,151.8 kB | 4,341.0 kB | [list of files] |
| ppc64 (unofficial port) | 1.3.5-2+b2 | 1,115.7 kB | 4,486.0 kB | [list of files] |
| ppc64el | 1.3.5-2+b2 | 1,130.9 kB | 4,408.0 kB | [list of files] |
| riscv64 (unofficial port) | 1.3.5-2 | 1,130.2 kB | 3,528.0 kB | [list of files] |
| s390x | 1.3.5-2+b2 | 1,119.0 kB | 4,082.0 kB | [list of files] |
| sh4 (unofficial port) | 1.3.5-2+b1 | 1,153.5 kB | 3,549.0 kB | [list of files] |
| sparc64 (unofficial port) | 1.3.5-2+b1 | 1,042.9 kB | 3,656.0 kB | [list of files] |
| x32 (unofficial port) | 1.3.5-2+b2 | 1,140.4 kB | 3,662.0 kB | [list of files] |