Package: enlightenment (0.24.2-7)
Links for enlightenment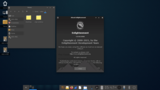 Debian Resources:
Download Source Package e17:
Maintainers:
External Resources:
Similar packages:
X11 window manager based on EFL
Enlightenment is an advanced window manager for X11. Unique features include: a fully animated background, nice drop shadows around windows, backed by an extremely clean and optimized foundation of APIs.
This package contains the core files for Enlightenment.
Other Packages Related to enlightenment
Download enlightenment
Download for all available architectures

| Architecture | Package Size | Installed Size | Files |
| --- | --- | --- | --- |
| alpha (unofficial port) | 4,460.2 kB | 12,843.0 kB | [list of files] |
| amd64 | 4,464.4 kB | 12,057.0 kB | [list of files] |
| arm64 | 4,321.5 kB | 11,656.0 kB | [list of files] |
| armel | 4,211.8 kB | 10,912.0 kB | [list of files] |
| armhf | 4,243.3 kB | 9,692.0 kB | [list of files] |
| hppa (unofficial port) | 4,402.8 kB | 11,870.0 kB | [list of files] |
| i386 | 4,561.8 kB | 12,332.0 kB | [list of files] |
| m68k (unofficial port) | 4,275.3 kB | 11,179.0 kB | [list of files] |
| mips64el | 4,209.3 kB | 12,133.0 kB | [list of files] |
| mipsel | 4,226.7 kB | 11,752.0 kB | [list of files] |
| ppc64 (unofficial port) | 4,530.3 kB | 17,811.0 kB | [list of files] |
| ppc64el | 4,584.3 kB | 17,486.0 kB | [list of files] |
| riscv64 (unofficial port) | 4,203.2 kB | 10,224.0 kB | [list of files] |
| s390x | 4,279.9 kB | 11,945.0 kB | [list of files] |
| sh4 (unofficial port) | 4,560.1 kB | 10,816.0 kB | [list of files] |
| x32 (unofficial port) | 4,471.8 kB | 11,524.0 kB | [list of files] |