Package: xcircuit (3.9.73+dfsg.1-1)
Links for xcircuit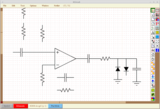 Debian Resources:
Download Source Package xcircuit:
Maintainers:
External Resources:
Similar packages:
Draw circuit schematics or almost anything
xcircuit is a generic drawing program tailored for making circuit diagrams.
The graphical interface attempts to maintain consistency between X11 window rendering and the pure PostScript output.
xcircuit is mouse, menu and keyboard driven. The emphasis is on single character macros.
Other Packages Related to xcircuit
Download xcircuit
Download for all available architectures

| Architecture | Package Size | Installed Size | Files |
| --- | --- | --- | --- |
| alpha (unofficial port) | 483.6 kB | 3,016.0 kB | [list of files] |
| amd64 | 515.0 kB | 2,693.0 kB | [list of files] |
| arm64 | 466.9 kB | 2,745.0 kB | [list of files] |
| armel | 481.1 kB | 2,670.0 kB | [list of files] |
| armhf | 476.6 kB | 2,358.0 kB | [list of files] |
| hppa (unofficial port) | 471.5 kB | 3,030.0 kB | [list of files] |
| i386 | 489.3 kB | 2,543.0 kB | [list of files] |
| m68k (unofficial port) | 476.5 kB | 2,566.0 kB | [list of files] |
| mips | 446.3 kB | 2,821.0 kB | [list of files] |
| mips64el | 448.0 kB | 2,913.0 kB | [list of files] |
| mipsel | 449.8 kB | 2,821.0 kB | [list of files] |
| powerpcspe (unofficial port) | 453.9 kB | 2,814.0 kB | [list of files] |
| ppc64 (unofficial port) | 477.2 kB | 3,022.0 kB | [list of files] |
| ppc64el | 478.3 kB | 2,958.0 kB | [list of files] |
| riscv64 (unofficial port) | 495.2 kB | 2,556.0 kB | [list of files] |
| s390x | 494.3 kB | 2,856.0 kB | [list of files] |
| sh4 (unofficial port) | 537.1 kB | 2,695.0 kB | [list of files] |
| sparc64 (unofficial port) | 459.6 kB | 2,918.0 kB | [list of files] |
| x32 (unofficial port) | 514.6 kB | 2,638.0 kB | [list of files] |