Package: colobot (0.2.0-2 and others)
Links for colobot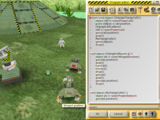 Debian Resources:
Download Source Package colobot:
Maintainer:
External Resources:
Similar packages:
educational programming strategy game
Colobot (Colonize with Bots) is an educational game aiming to teach programming through entertainment. You are playing as an astronaut on a journey with robot helpers to find a planet for colonization. It features 3D real-time graphics and a C++ and Java-like, object-oriented language, CBOT, which can be used to program the robots available in the game.
Other Packages Related to colobot
Download colobot
Download for all available architectures

| Architecture | Version | Package Size | Installed Size | Files |
| --- | --- | --- | --- | --- |
| alpha (unofficial port) | 0.2.0-2+b3 | 1,475.6 kB | 5,753.0 kB | [list of files] |
| amd64 | 0.2.0-2+b5 | 1,490.4 kB | 4,897.0 kB | [list of files] |
| arm64 | 0.2.0-2+b5 | 1,345.3 kB | 4,725.0 kB | [list of files] |
| armel | 0.2.0-2+b5 | 1,296.3 kB | 4,308.0 kB | [list of files] |
| armhf | 0.2.0-2+b5 | 1,290.9 kB | 3,316.0 kB | [list of files] |
| hppa (unofficial port) | 0.2.0-2+b5 | 1,507.7 kB | 5,022.0 kB | [list of files] |
| i386 | 0.2.0-2+b5 | 1,569.3 kB | 5,115.0 kB | [list of files] |
| m68k (unofficial port) | 0.2.0-2+b4 | 1,268.6 kB | 4,592.0 kB | [list of files] |
| mips64el | 0.2.0-2+b5 | 1,319.2 kB | 5,776.0 kB | [list of files] |
| mipsel | 0.2.0-2+b5 | 1,341.2 kB | 5,457.0 kB | [list of files] |
| ppc64 (unofficial port) | 0.2.0-2+b5 | 1,497.3 kB | 6,342.0 kB | [list of files] |
| ppc64el | 0.2.0-2+b5 | 1,522.3 kB | 5,749.0 kB | [list of files] |
| riscv64 (unofficial port) | 0.2.0-2+b5 | 1,434.3 kB | 4,115.0 kB | [list of files] |
| s390x | 0.2.0-2+b4 | 1,307.7 kB | 4,917.0 kB | [list of files] |
| sh4 (unofficial port) | 0.2.0-2+b4 | 1,572.4 kB | 4,398.0 kB | [list of files] |
| sparc64 (unofficial port) | 0.2.0-2+b4 | 1,288.3 kB | 5,652.0 kB | [list of files] |
| x32 (unofficial port) | 0.2.0-2+b5 | 1,471.4 kB | 4,539.0 kB | [list of files] |