Package: cavepacker (2.5.2-1 and others)
Links for cavepacker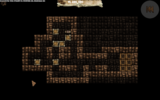 Debian Resources:
Download Source Package caveexpress:
Maintainers:
External Resources:
Similar packages:
sokoban game with network based multiplayer gaming
CavePacker is a sokoban game. It is a puzzle game where you have to move the packages onto their targets without getting stuck. The lesser steps you made for solving a level, the better. You may only push but not pull packages.
Other Packages Related to cavepacker
Download cavepacker
Download for all available architectures

| Architecture | Version | Package Size | Installed Size | Files |
| --- | --- | --- | --- | --- |
| alpha (unofficial port) | 2.5.2-1 | 523.1 kB | 2,444.0 kB | [list of files] |
| amd64 | 2.5.2-1 | 486.5 kB | 1,819.0 kB | [list of files] |
| arm64 | 2.5.2-1 | 451.9 kB | 1,811.0 kB | [list of files] |
| armel | 2.5.2-1 | 415.5 kB | 1,566.0 kB | [list of files] |
| armhf | 2.5.2-1 | 425.2 kB | 1,162.0 kB | [list of files] |
| hppa (unofficial port) | 2.5.2-1 | 478.2 kB | 1,910.0 kB | [list of files] |
| i386 | 2.5.2-1 | 517.6 kB | 1,982.0 kB | [list of files] |
| ia64 (unofficial port) | 2.5.2-1 | 608.1 kB | 4,221.0 kB | [list of files] |
| m68k (unofficial port) | 2.5.2-1 | 436.8 kB | 1,658.0 kB | [list of files] |
| mips64el | 2.5.2-1 | 421.9 kB | 2,216.0 kB | [list of files] |
| mipsel | 2.5.2-1 | 427.7 kB | 2,066.0 kB | [list of files] |
| ppc64 (unofficial port) | 2.5.2-1 | 516.4 kB | 2,683.0 kB | [list of files] |
| ppc64el | 2.5.2-1 | 507.4 kB | 2,363.0 kB | [list of files] |
| riscv64 (unofficial port) | 2.5.2-1+b1 | 460.7 kB | 1,449.0 kB | [list of files] |
| s390x | 2.5.2-1 | 461.2 kB | 2,031.0 kB | [list of files] |
| sh4 (unofficial port) | 2.5.2-1 | 555.4 kB | 1,503.0 kB | [list of files] |
| sparc64 (unofficial port) | 2.5.2-1 | 376.5 kB | 1,846.0 kB | [list of files] |
| x32 (unofficial port) | 2.5.2-1 | 488.2 kB | 1,654.0 kB | [list of files] |