Package: blockout2 (2.5+dfsg1-1)
Links for blockout2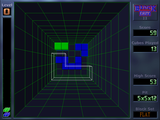 Debian Resources:
Download Source Package blockout2:
Maintainers:
External Resources:
Similar packages:
Tetris like game (3D-tetris)
BlockOut II is a free adaptation of the original BlockOut DOS game edited by California Dreams in 1989. BlockOut II has the same features than the original game with few graphic improvements. The score calculation is also nearly similar to the original game. BlockOut II has been designed by an addicted player for addicted players. BlockOut II is an open source project available for both Windows and Linux.
Other Packages Related to blockout2
dep:

libc6 (>= 2.27) [not alpha, ia64, sh4]

GNU C Library: Shared libraries
also a virtual package provided by libc6-udeb

dep:

libc6 (>= 2.28) [sh4]

dep:

libc6.1 (>= 2.27) [alpha]

GNU C Library: Shared libraries
also a virtual package provided by libc6.1-udeb

dep:

libc6.1 (>= 2.28) [ia64]

dep:

libgcc1 (>= 1:3.0) [not armel, armhf, hppa, ia64, m68k, sh4]

Package not available

dep:

libgcc1 (>= 1:3.3.4) [sh4]

dep:

libgcc1 (>= 1:3.5) [armel, armhf]

dep:

libgcc1 (>= 1:4.2) [ia64]

dep:

libgcc2 (>= 4.2.1) [m68k]

Package not available

dep:

libgcc4 (>= 4.1.1) [hppa]

Package not available

dep:

libgl1

Vendor neutral GL dispatch library -- legacy GL support

dep:

libglu1-mesa

Mesa OpenGL utility library (GLU)

or libglu1

virtual package provided by libglu1-mesa

dep:

libpng16-16 (>= 1.6.2-1)

PNG library - runtime (version 1.6)

dep:

libsdl-mixer1.2

Mixer library for Simple DirectMedia Layer 1.2, libraries

dep:

libsdl1.2debian (>= 1.2.11)

Simple DirectMedia Layer

dep:

libstdc++6 (>= 5)

GNU Standard C++ Library v3

dep:

libunwind8 [ia64]

library to determine the call-chain of a program - runtime
Download blockout2
Download for all available architectures

| Architecture | Package Size | Installed Size | Files |
| --- | --- | --- | --- |
| alpha (unofficial port) | 4,135.9 kB | 4,495.0 kB | [list of files] |
| amd64 | 4,128.6 kB | 4,430.0 kB | [list of files] |
| arm64 | 4,121.3 kB | 4,410.0 kB | [list of files] |
| armel | 4,115.5 kB | 4,401.0 kB | [list of files] |
| armhf | 4,115.8 kB | 4,353.0 kB | [list of files] |
| hppa (unofficial port) | 4,130.7 kB | 4,431.0 kB | [list of files] |
| i386 | 4,133.6 kB | 4,469.0 kB | [list of files] |
| ia64 (unofficial port) | 4,150.4 kB | 4,653.0 kB | [list of files] |
| m68k (unofficial port) | 4,125.2 kB | 4,469.0 kB | [list of files] |
| mips64el | 4,136.3 kB | 4,504.0 kB | [list of files] |
| mipsel | 4,136.1 kB | 4,489.0 kB | [list of files] |
| ppc64 (unofficial port) | 4,134.1 kB | 4,542.0 kB | [list of files] |
| ppc64el | 4,131.7 kB | 4,478.0 kB | [list of files] |
| riscv64 (unofficial port) | 4,127.4 kB | 4,387.0 kB | [list of files] |
| s390x | 4,119.3 kB | 4,430.0 kB | [list of files] |
| sh4 (unofficial port) | 4,142.5 kB | 4,418.0 kB | [list of files] |
| sparc64 (unofficial port) | 4,119.0 kB | 4,435.0 kB | [list of files] |
| x32 (unofficial port) | 4,128.6 kB | 4,425.0 kB | [list of files] |