Package: ark (4:22.04.1-1 and others)
Links for ark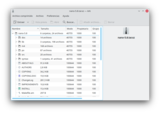 Debian Resources:
Download Source Package ark:
Maintainers:
External Resources:
Similar packages:
archive utility
Ark manages various archive formats, including tar, gzip, bzip2, rar and zip, as well as CD-ROM images. Ark can be used to browse, extract, create, and modify archives.
This package is part of the KDE SC utilities module.
Other Packages Related to ark
dep:

kinit [not ia64]

process launcher to speed up launching KDE applications

dep:

kio

resource and network access abstraction

dep:

libarchive13 (>= 3.2.1) [ia64]

Multi-format archive and compression library (shared library)

dep:

libarchive13 (>= 3.3.3) [not ia64]

dep:

libc6 (>= 2.33) [not alpha, ia64, sparc64]

GNU C Library: Shared libraries
also a virtual package provided by libc6-udeb

dep:

libc6 (>= 2.4) [sparc64]

dep:

libc6.1 (>= 2.27) [ia64]

GNU C Library: Shared libraries
also a virtual package provided by libc6.1-udeb

dep:

libc6.1 (>= 2.33) [alpha]

dep:

libgcc-s1 (>= 3.0) [amd64, arm64, mips64el, ppc64, ppc64el, s390x, x32]

GCC support library

dep:

libgcc-s1 (>= 3.4) [alpha, riscv64]

dep:

libgcc-s1 (>= 3.5) [armel, armhf]

dep:

libgcc-s1 (>= 4.2) [i386, mipsel, sh4]

dep:

libgcc-s2 (>= 4.2.1) [m68k]

GCC support library

dep:

libgcc-s4 (>= 4.1.1) [hppa]

GCC support library

dep:

libgcc1 (>= 1:3.4) [sparc64]

Package not available

dep:

libgcc1 (>= 1:4.2) [ia64]

dep:

libkf5archive5 (>= 4.96.0) [ia64, sparc64]

Qt 5 addon providing access to numerous types of archives

dep:

libkf5archive5 (>= 5.86.0~) [not ia64, sparc64]

dep:

libkf5completion5 (>= 4.97.0)

Widgets with advanced auto-completion features.

dep:

libkf5configcore5 (>= 4.98.0) [ia64, sparc64]

configuration settings framework for Qt

dep:

libkf5configcore5 (>= 5.86.0~) [not ia64, sparc64]

dep:

libkf5configgui5 (>= 4.97.0) [ia64, sparc64]

configuration settings framework for Qt

dep:

libkf5configgui5 (>= 5.86.0~) [not ia64, sparc64]

dep:

libkf5configwidgets5 (>= 4.96.0) [ia64]

Extra widgets for easier configuration support.

dep:

libkf5configwidgets5 (>= 5.23.0) [not ia64]

dep:

libkf5coreaddons5 (>= 5.16.0) [ia64, sparc64]

KDE Frameworks 5 addons to QtCore

dep:

libkf5coreaddons5 (>= 5.90.0) [not ia64, sparc64]

dep:

libkf5crash5 (>= 5.15.0) [ia64, sparc64]

Support for application crash analysis and bug report from apps

dep:

libkf5crash5 (>= 5.86.0~) [not ia64, sparc64]

dep:

libkf5dbusaddons5 (>= 4.97.0) [ia64, sparc64]

class library for qtdbus

dep:

libkf5dbusaddons5 (>= 5.86.0~) [not ia64, sparc64]

dep:

libkf5i18n5 (>= 4.97.0) [ia64, sparc64]

Advanced internationalization framework.

dep:

libkf5i18n5 (>= 5.86.0~) [not ia64, sparc64]

dep:

libkf5iconthemes5 (>= 4.96.0) [ia64, sparc64]

Support for icon themes.

dep:

libkf5itemmodels5 (>= 4.96.0) [ia64, sparc64]

additional item/view models for Qt Itemview

dep:

libkf5jobwidgets5 (>= 4.96.0)

Widgets for tracking KJob instances

dep:

libkf5kiocore5 (>= 4.96.0) [ia64]

resource and network access abstraction (KIO core library)

dep:

libkf5kiocore5 (>= 5.44.0~) [sparc64]

dep:

libkf5kiocore5 (>= 5.86.0~) [not ia64, sparc64]

dep:

libkf5kiofilewidgets5 (>= 4.96.0) [ia64]

resource and network access abstraction (KIO file widgets library)

dep:

libkf5kiofilewidgets5 (>= 5.44.0~) [sparc64]

dep:

libkf5kiofilewidgets5 (>= 5.86.0~) [not ia64, sparc64]

dep:

libkf5kiogui5 (>= 5.86.0~) [not ia64, sparc64]

resource and network access abstraction (KIO gui library)

dep:

libkf5kiowidgets5 (>= 5.35.0) [ia64]

resource and network access abstraction (KIO widgets library)

dep:

libkf5kiowidgets5 (>= 5.44.0~) [sparc64]

dep:

libkf5kiowidgets5 (>= 5.86.0~) [not ia64, sparc64]

dep:

libkf5parts5 (>= 4.96.0) [ia64, sparc64]

Document centric plugin system.

dep:

libkf5parts5 (>= 5.86.0~) [not ia64, sparc64]

dep:

libkf5pty5 (>= 4.96.0) [ia64, sparc64]

Pty abstraction.

dep:

libkf5pty5 (>= 5.86.0~) [not ia64, sparc64]

dep:

libkf5service-bin

Advanced plugin and service introspection

dep:

libkf5service5 (>= 4.99.0) [ia64, sparc64]

Advanced plugin and service introspection

dep:

libkf5service5 (>= 5.86.0~) [not ia64, sparc64]

dep:

libkf5widgetsaddons5 (>= 5.16.0) [ia64, sparc64]

add-on widgets and classes for applications that use the Qt Widgets module

dep:

libkf5widgetsaddons5 (>= 5.86.0~) [not ia64, sparc64]

dep:

libkf5xmlgui5 (>= 4.98.0) [ia64, sparc64]

User configurable main windows.

dep:

libkf5xmlgui5 (>= 5.69.0) [not ia64, sparc64]

dep:

libqt5core5a (>= 5.15.1) [not ia64, sparc64]

Qt 5 core module

dep:

libqt5core5a (>= 5.7.0) [ia64]

dep:

libqt5core5a (>= 5.8.0~) [sparc64]

dep:

libqt5dbus5 (>= 5.15.0~) [not ia64, sparc64]

Qt 5 D-Bus module

dep:

libqt5dbus5 (>= 5.6.0~) [ia64]

dep:

libqt5dbus5 (>= 5.8.0~) [sparc64]

dep:

libqt5gui5 (>= 5.15.0~) [not ia64, sparc64]

Qt 5 GUI module

or libqt5gui5-gles (>= 5.15.0~)

Qt 5 GUI module — OpenGL ES variant

dep:

libqt5gui5 (>= 5.7.0) [ia64]

Qt 5 GUI module

dep:

libqt5gui5 (>= 5.8.0~) [sparc64]

dep:

libqt5widgets5 (>= 5.11.0~rc1) [sparc64]

Qt 5 widgets module

dep:

libqt5widgets5 (>= 5.15.0~) [not ia64, sparc64]

dep:

libqt5widgets5 (>= 5.6.0~beta) [ia64]

dep:

libstdc++6 (>= 4.1.1) [ia64, sparc64]

GNU Standard C++ Library v3

dep:

libstdc++6 (>= 5) [not ia64, sparc64]

dep:

libunwind8 [ia64]

library to determine the call-chain of a program - runtime

dep:

libzip4 (>= 1.3.0) [sparc64]

library for reading, creating, and modifying zip archives (runtime)

dep:

libzip4 (>= 1.6.0) [not ia64, sparc64]

dep:

zlib1g (>= 1:1.1.4) [not ia64]

compression library - runtime
sug:

rar

Archiver for .rar files

sug:

unrar

Unarchiver for .rar files (non-free version)

or unrar-free

Unarchiver for .rar files
Download ark
Download for all available architectures

| Architecture | Version | Package Size | Installed Size | Files |
| --- | --- | --- | --- | --- |
| alpha (unofficial port) | 4:22.04.1-1 | 1,383.3 kB | 5,363.0 kB | [list of files] |
| amd64 | 4:22.04.1-1 | 1,382.4 kB | 5,017.0 kB | [list of files] |
| arm64 | 4:22.04.1-1 | 1,367.4 kB | 5,012.0 kB | [list of files] |
| armel | 4:22.04.1-1 | 1,332.8 kB | 4,692.0 kB | [list of files] |
| armhf | 4:22.04.1-1 | 1,342.0 kB | 4,412.0 kB | [list of files] |
| hppa (unofficial port) | 4:22.04.1-1 | 1,401.3 kB | 5,235.0 kB | [list of files] |
| i386 | 4:22.04.1-1 | 1,425.7 kB | 5,072.0 kB | [list of files] |
| ia64 (unofficial port) | 4:17.08.3-2+b1 | 1,251.0 kB | 5,858.0 kB | [list of files] |
| m68k (unofficial port) | 4:22.04.1-1 | 1,374.1 kB | 4,848.0 kB | [list of files] |
| mips64el | 4:22.04.1-1 | 1,337.8 kB | 5,151.0 kB | [list of files] |
| mipsel | 4:22.04.1-1 | 1,337.1 kB | 5,003.0 kB | [list of files] |
| ppc64 (unofficial port) | 4:22.04.1-1 | 1,401.5 kB | 6,065.0 kB | [list of files] |
| ppc64el | 4:22.04.1-1 | 1,395.2 kB | 5,873.0 kB | [list of files] |
| riscv64 (unofficial port) | 4:22.04.1-1 | 1,340.0 kB | 4,587.0 kB | [list of files] |
| s390x | 4:22.04.1-1 | 1,352.1 kB | 5,072.0 kB | [list of files] |
| sh4 (unofficial port) | 4:22.04.1-1 | 1,411.8 kB | 4,697.0 kB | [list of files] |
| sparc64 (unofficial port) | 4:19.08.1-1 | 1,173.7 kB | 4,775.0 kB | [list of files] |
| x32 (unofficial port) | 4:22.04.1-1 | 1,390.0 kB | 4,820.0 kB | [list of files] |