Package: ams (2.2.0-1)
Links for ams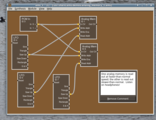 Debian Resources:
Download Source Package ams:
Maintainers:
External Resources:
Similar packages:
Realtime modular synthesizer for ALSA
AlsaModularSynth is a realtime modular synthesizer and effect processor. It features:

 * MIDI controlled modular software synthesis.
 * Realtime effect processing with capture from e.g. "Line In" or "Mic In".
 * Full control of all synthesis and effect parameters via MIDI.
 * Integrated LADSPA Browser with search capability.
 * JACK Support.

Other Packages Related to ams
Download ams
Download for all available architectures

| Architecture | Package Size | Installed Size | Files |
| --- | --- | --- | --- |
| alpha (unofficial port) | 318.3 kB | 1,808.0 kB | [list of files] |
| amd64 | 315.4 kB | 1,589.0 kB | [list of files] |
| arm64 | 284.4 kB | 1,565.0 kB | [list of files] |
| armel | 289.5 kB | 1,459.0 kB | [list of files] |
| armhf | 287.3 kB | 1,279.0 kB | [list of files] |
| hppa (unofficial port) | 317.1 kB | 1,587.0 kB | [list of files] |
| i386 | 345.9 kB | 1,595.0 kB | [list of files] |
| ia64 (unofficial port) | 360.2 kB | 2,453.0 kB | [list of files] |
| m68k (unofficial port) | 316.3 kB | 1,567.0 kB | [list of files] |
| mips64el | 303.0 kB | 1,849.0 kB | [list of files] |
| mipsel | 303.7 kB | 1,705.0 kB | [list of files] |
| ppc64 (unofficial port) | 319.4 kB | 1,881.0 kB | [list of files] |
| ppc64el | 315.1 kB | 1,817.0 kB | [list of files] |
| riscv64 (unofficial port) | 313.6 kB | 1,524.0 kB | [list of files] |
| s390x | 292.7 kB | 1,629.0 kB | [list of files] |
| sh4 (unofficial port) | 361.3 kB | 1,534.0 kB | [list of files] |
| sparc64 (unofficial port) | 271.1 kB | 1,595.0 kB | [list of files] |