Package: a7xpg (0.11.dfsg1-11 and others)
Links for a7xpg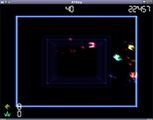 Debian Resources:
Download Source Package a7xpg:
Maintainers:
External Resources:
Similar packages:
chase action game
The goal of the game is to collect all the gold bullions found in each level and avoid crashing into any of the enemies. As you progress through the levels you will encounter harder enemies, and you can gain a short period of invincibility if you gather gold at high speeds.
A7Xpg is another gem among many by Kenta Cho.
Other Packages Related to a7xpg
dep:

a7xpg-data (= 0.11.dfsg1-11) [not alpha, ppc64, sh4, sparc64]

chase action game - game data

dep:

a7xpg-data (= 0.11.dfsg1-7) [alpha, ppc64, sh4, sparc64]

dep:

libc6.1 (>= 2.4) [alpha]

GNU C Library: Shared libraries
also a virtual package provided by libc6.1-udeb

dep:

libgcc-s1 (>= 3.0) [amd64, s390x, x32]

GCC support library

dep:

libgcc-s1 (>= 3.5) [armel, armhf]

dep:

libgcc-s1 (>= 4.2) [i386, mipsel]

dep:

libgcc-s1 (>= 4.5) [arm64, mips64el, riscv64]

dep:

libgcc-s4 (>= 4.1.1) [hppa]

GCC support library

dep:

libgcc1 (>= 1:4.1.1) [alpha, ppc64, sh4, sparc64]

Package not available

dep:

libgl1 [not alpha, ppc64, sh4, sparc64]

Vendor neutral GL dispatch library -- legacy GL support

dep:

libgl1-mesa-glx [alpha, ppc64, sh4, sparc64]

transitional dummy package

or libgl1

Vendor neutral GL dispatch library -- legacy GL support

dep:

libgphobos2 (>= 11) [amd64]

Phobos D standard library (runtime library)

dep:

libgphobos2 (>= 11.2.0-14) [x32]

dep:

libgphobos2 (>= 11.3.0-3) [not alpha, amd64, ppc64, riscv64, sh4, sparc64, x32]

dep:

libgphobos3 (>= 12.2.0-10) [riscv64]

Phobos D standard library (runtime library)

dep:

libogg0 (>= 1.0rc3) [sh4]

Ogg bitstream library

dep:

libsdl-mixer1.2 [alpha, ppc64, sh4, sparc64]

Mixer library for Simple DirectMedia Layer 1.2, libraries

dep:

libsdl-mixer1.2 (>= 1.2.12) [not alpha, ppc64, sh4, sparc64]

dep:

libsdl1.2debian (>= 1.2.10-1) [alpha, sh4, sparc64]

Simple DirectMedia Layer

dep:

libsdl1.2debian (>= 1.2.11) [not alpha, riscv64, sh4, sparc64]

dep:

libsdl1.2debian (>= 1.2.15) [riscv64]

dep:

zlib1g (>= 1:1.1.4) [alpha, ppc64, sh4, sparc64]

compression library - runtime
Download a7xpg
Download for all available architectures

| Architecture | Version | Package Size | Installed Size | Files |
| --- | --- | --- | --- | --- |
| alpha (unofficial port) | 0.11.dfsg1-7 | 201.5 kB | 1,647.0 kB | [list of files] |
| amd64 | 0.11.dfsg1-11 | 71.5 kB | 1,302.0 kB | [list of files] |
| arm64 | 0.11.dfsg1-11 | 68.0 kB | 1,296.0 kB | [list of files] |
| armel | 0.11.dfsg1-11 | 64.1 kB | 1,248.0 kB | [list of files] |
| armhf | 0.11.dfsg1-11 | 62.6 kB | 1,219.0 kB | [list of files] |
| hppa (unofficial port) | 0.11.dfsg1-11 | 74.8 kB | 1,286.0 kB | [list of files] |
| i386 | 0.11.dfsg1-11 | 75.7 kB | 1,293.0 kB | [list of files] |
| mips64el | 0.11.dfsg1-11 | 77.1 kB | 1,371.0 kB | [list of files] |
| mipsel | 0.11.dfsg1-11 | 75.0 kB | 1,319.0 kB | [list of files] |
| ppc64 (unofficial port) | 0.11.dfsg1-7 | 195.7 kB | 1,698.0 kB | [list of files] |
| riscv64 (unofficial port) | 0.11.dfsg1-11+b1 | 62.3 kB | 1,240.0 kB | [list of files] |
| s390x | 0.11.dfsg1-11 | 71.1 kB | 1,320.0 kB | [list of files] |
| sh4 (unofficial port) | 0.11.dfsg1-7 | 174.0 kB | 1,510.0 kB | [list of files] |
| sparc64 (unofficial port) | 0.11.dfsg1-7 | 182.2 kB | 1,530.0 kB | [list of files] |
| x32 (unofficial port) | 0.11.dfsg1-11 | 66.2 kB | 1,250.0 kB | [list of files] |